Shadow Warrior free as SW2 gets new free bits
So many demons, so little time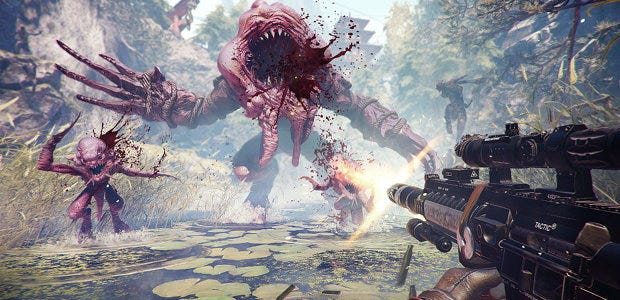 Hey gang, if you missed Shadow Warrior the last time it was free, another chance is here for a few more hours. This is the 2013 reboot of the demon-stabbing FPS, to be clear, not 3D Realm's original (which is always free). You've got until 6pm today (10am Pacific) to grab this free so chop chop.
The giveaway celebrates the launch of new missions and weapons for Shadow Warrior 2 in a free update last night. And that game's on sale right now too. So many shadows and wars, so little time.
Hit Steam in the next six hours and you can get Shadow Warrior for free for keepsies.
Shadow Warrior 2 and the revamp of the first game are on sale too.
As for the new bits jammed into Flying Wild Hog's looter-shooter sequel last night, publishers Developer Digital explain:
"The Shadow Warrior 2: Bounty Hunt Part 2 DLC delivers 13 thrilling new missions, two spectacular new weapons, and three powerful new perks for Lo Wang and the gang. Strap on your katana and go for one last ride alone or in co-op through missions like Lost Girls, Missing Yakuza, and Danger Zone with new weapons like the Tactical Bullet Spewing Machine (TBSM)."
Pew pow!
The Shadow Warrior was really quite good, Adam will tell you. Shadow Warrior 2 reshapes it into a procedurally-generated looter-shooter which our kid declared to be "anarchic, excessive, ridiculous, occasionally spectacular and almost entirely wonderful."
Fun video games, in short.