Shardlight designer and Wadjet Eye Games part ways
It's an amicable split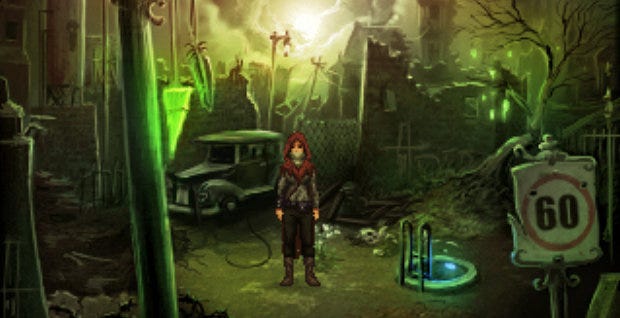 Shardlight [official site] developer Francisco Gonzalez has announced that he's no working with Wadjet Eye Games. Gonzalez announced the split in a blog post yesterday, though it actually happened last year. The future of his next game, Lamplight City, is also now uncertain.
Gonzalez stopped working at Wadjet Eye full time way back in April, but he and founder Dave Gilbert decided to keep quiet so as to not detract from Shardlight, which had launched the month before.
Shardlight was a commercial success, but a series of unfortunate circumstances meant I wasn't affordable anymore, and so I had to be let go. There was no animosity or ill-will, but we decided to keep it quiet to avoid questions, especially having just launched a successful game.
Shardlight is a point-and-click adventure set in a post-apocalyptic world, with art by Ben Chandler. John had lots of nice things to say about it in his Shardlight review:
The story manages to not offer anything stunningly original, while still being captivating. There are elements after finishing it (and seeing all three very different endings) that I would have liked to have seen fleshed out further, characters whose lives I'd like to have learned more about, and certain mysteries perhaps a little anticlimactically resolved. But it remains a full-length, always intriguing tale, with a broad mix of characters, and a player character who doesn't let you down with stupidity, weary sarcasm or random cruelty.
Gilbert was still going to publish Gonzalez's next game, Lamplight City, but that's no longer the case. The developer cites differences in their creative vision for the game. Gonzalez is now looking for a new publisher, and promises that the game will see the light of day.
I reached out to Gilbert, who reiterated that the split was amicable. "Sometimes the muse takes you in a different direction from your original vision and I can totally respect that."