Shenmue 1 and 2 brawl their way to PC
Forklifts and murdermen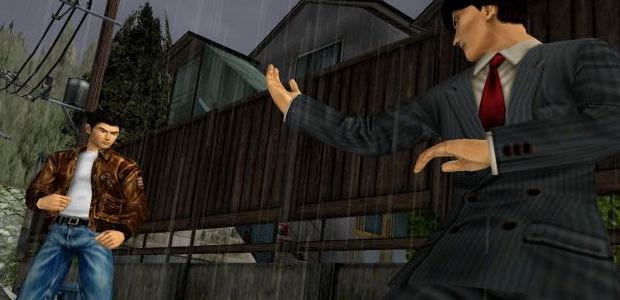 In a move that feels long overdue, Shenmue and its sequel Shenmue 2 are getting their first official releases on PC. The action-adventure game series from Yu Suzuki was supposed to launch a franchise in 1999 and 2001, respectively, and has amassed a cult following in the intervening decades. The third game in the series took to Kickstarter in 2015 and became the one of the fastest fundings in crowdfunding history. This new repackaging of the first two games lays the groundwork for folks to get excited about the (hopefully) incoming new chapter. Either way, this marks the first opportunity for PC owners to finally enter Suzuki's clockwork world of forklifts and crime.
If you've never played the Shenmue games, it's a two decade long production tale involving four planned games in a sprawling revenge story. The main character is out to avenge his father's murder, which involves graduating from a life of unskilled menial labor into a world of hard and fast martial arts. The first game in the series was the most expensive game of all time upon release, and featured an open real-time world with day/night cycles, weather, and a population of NPC that all have their own lives and schedules. It was one of the first games to deliver a big, constantly functioning, living world. I didn't love the titles first time around, but I feel like coming back to Shenmue now, I would have a real appreciation for how everything works behind the scenes. Not that you need to be any kind of games scholar to enjoy using jujitsu on criminals. That's always timely.
This video breaks down the game's history and technology better than I ever could:
Sega has announced: "The re-release will stay true to the originals with modernized features including fully scalable screen resolution, choice of modern or classic control schemes, PC graphics options, an updated user interface and the option to enjoy either the original Japanese or English voice-overs."
No additional details have been given on what the PC remasters(?) will look like, and with the state of recent PC ports (like Chrono Trigger) it feels like an important time to let people know whether they're getting a high resolution experience or just a PC experience.
Check out the trailer here:
Shenmue 1 and 2 will be available for preorder soon on Steam; physical editions are coming as well, but are planned only for consoles. Details are available at the official site. News on Shenmue 3 will be available when... uh... look, just cross your fingers and assume that Deep Silver is gonna pull this off.
If you're in for a real blast from the past, I feel like everyone who owned a Dreamcast saw this trailer, and it may be the first longform game trailer I can remember? Anyway, imagine watching this and getting just embarrassingly hyped. That's me. That's who I was. Tag yourself: I'm Dreamcastboy.