Shenzhen I/O's solitaire now available standalone
Good carding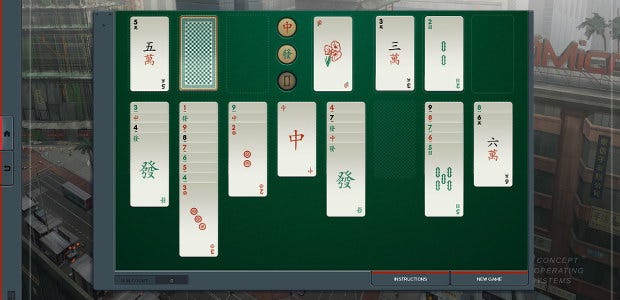 If you've heard folks talk about Shenzhen I/O, you've likely heard them celebrate the fiendish and delightful puzzles of building and programming hardware. You were likely a bit blindsided when they went on to praise its in-universe solitaire game. Well! If Zachlikes are a bit much for you but you do enjoy a nice bit of solitaire, good news: Zachtronics have now released Shenzhen I/O's solitaire separately as a cheap standalone game.
As my relationship with technology can be somewhat difficult - this Laura Callaghan picture hangs above my desk for catharsis - I've not got around to Shenzhen I/O yet but I do enjoy good solitaire. Zachtronics say this variant is "inspired by Mahjong and FreeCell" and y'all commenters say, well, that it's great. Here's 'invitro':
"I'm hooked on the solitaire game. It's easy once you learn it, so I'm trying for most wins in a row, eight is my best. I've even started writing a program to solve it, as I'm very interested to know what percent of the possible starting positions are solvable (I don't think it's 100%!)."
For the record, Zachtronics say "Over 98% of deals are solvable."
'Jekadu' japes:
"Wait, there's a puzzle game hidden in the OS? I just play the Solitaire variant that it comes bundled with.

"It's really good Solitaire."
While 'meepmeep' adds:
"I like the solitaire so much I've logged 40 hours and only actually done 3 of the main game puzzles."
So the solitaire is good, is what I'm hearing.
Shenzhen Solitaire is £1.79/2,69€/$2.69 right now on Steam for Windows, Mac, and Linux. Shenzhen I/O owners will need to buy this separately if they want it standalone but hey, they do have already have the exact same solitaire within I/O.