Suspicious Mind: Sherlock Holmes - Crimes & Punishments
Interrogation and deduction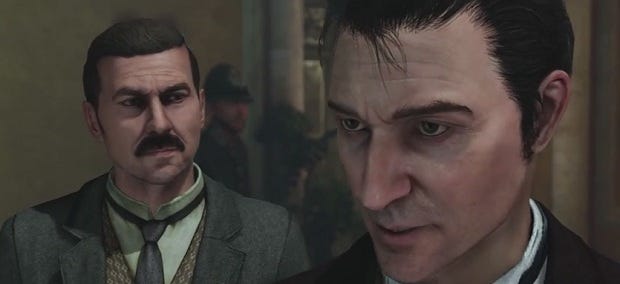 A new trailer for Sherlock Holmes: Crimes & Punishments demonstrates the manner in which a conversation with the great detective plays out. It's impossible to lie to him, essentially - tell him that you're feeling good about yourself for the first time in six months, and he'll spot some lint nestling in the fabric of your cuff and use it as an excuse to deconstruct your frame of mind, pummelling you with the blunt edge of facts until good feelings are slumped, bloody by your side. I loved the depiction of Holmes in the previous Frogwares game, which also featured the most perfectly rendered dog dick I've ever seen. The trailer shows an interrogation, which involves spotting details and clues rather than interpreting a series of looping gurns and sneers.
Making a deduction based on the telegram sticking out of the chap's pocket does feel a bit like 'guessing' a clerk's name and then revealing that you saw it on the nametag they're wearing, but Holmes is still a hero in my book. Good to see Manchester making a cameo appearance as well.
The previous game was a thoroughly decent adventure and a surprisingly grisly one. If Crimes & Punishments can raise the bar even a little and integrate its 'consequences' system effectively, it could be a real treat. Out September 30th.