Ship Builder The Last Leviathan Docks At Early Access
Brutal buoyancy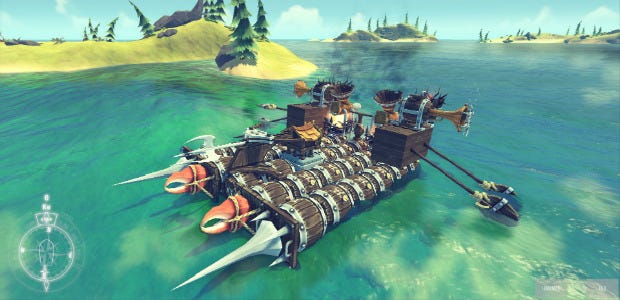 Let's be clear: the above header image is a stock photo and is not my own ship-crafting handiwork. You see, Super Punk Games' The Last Leviathan [official site] bills itself as a "physics-based ship building and destruction adventure" and it seems I very much forgot to consider the former. I spent the best part of half an hour designing what I thought was a robust and threatening sea faring vessel with cannons and spikes and flamethrowers and when I finally tossed it into the water it immediately upturned and exploded shortly thereafter. Curse you buoyancy (or lack thereof)!
Anyway, The Last Leviathan is sort-of like genre similar Besiege and has just landed on Early Access. Here's April's Greenlight trailer that showcases boats far superior to mine:
In its current guise, The Last Leviathan offers four different modes to choose from: Creative, which is a non-hostile open sandbox to muck around in, trial new ship designs, and get to grips with the game's physics engine; Battle Seas, which at the moment lets you take on a series of pirate battles of increasing difficulty, and will later let you partake in racing events, dock sieges and survival bouts; Versus, which has you go head-to-head with ships you've built by yourself or ones others have designed via Steam Workshop; and Events, which currently tasks you with defeating the Storm Ranger vessel with a Carrick Class ship in the fastest time possible, and will offer new challenges over time.
Voyage mode is also coming soon which will let you "build, sail, navigate and fight across the seas, unveiling the secrets of Middenhir in a voyage of survival and discovery."
Although this is Super Punk's first fully in-house created game, their back catalogue includes work on the Steam Edition of Microsoft Flight Simulator X, so it's little wonder why The Last Leviathan pays such close attention to credible physics. In turn, it's little wonder why I'm still finding my seas legs. And arms, and head, given how many times these blasted hostile pirates have blown my ship to pieces.
The Last Leviathan is out now on Steam Early Access for Windows and costs £6.29/$8.99/8,99€ as part of the Steam Summer Sale.