Shoot Many Robots Optimised For PC, Released 6 April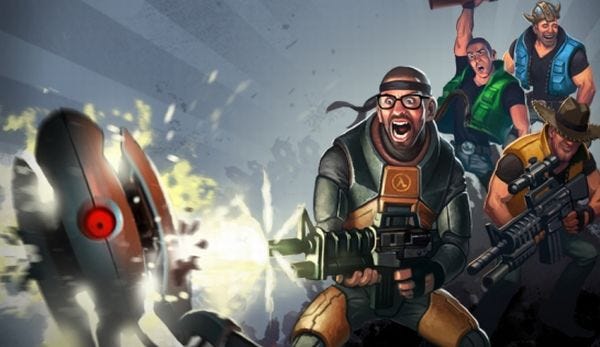 Shoot Many Robots, Ubisoft's co-op side-scrolling shooter, has a PC release date for Steam. The 6th April. It's been out on console downloads for a while now, and has garnered an extremely confusing mix of reviews. The super-angry Destructoid loved it with an 8, while the pathologically generous IGN broke their score machine by going as low as 4.5. So I don't know what to think. About anything. Pre-ordering the game will score you a few bonuses. Get three copies and they'll throw in a fourth, along with some aesthetic Valve-themed changes for the game - the likes of Gordon Freeman as a playable character, or Portal turrets as enemies, along with some TF2 shenanigans.
The PC version is also receiving some better graphics, with up to 2560x1600 resolution for people who play games on the side of their house, along with new controls and interfaces specifically designed for PC, Steam's matchmaking (and Facebook's, apparently), along with voice chat. In fact, developers Demiurge seem to be straining themselves to prove they love the PC, despite the delayed release. Boss man Albert Reed grovelled,
"We're dedicated PC gamers here at Demiurge Studios, and we wanted to make sure and take the time to do the PC version right. We rebuilt the controls for PC and overhauled all the user interface so it won't feel like you've turned your keyboard into a gamepad that makes clicky sounds – every detail has been considered to make this an optimized and seamless experience."
Have a trailer: