Walled City: SimCity Goes Offline Today
The DRMa is over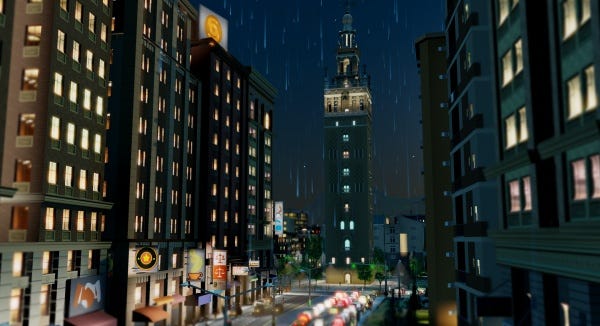 In a final [humiliating capitulation]/[act of goodwill and community empowerment] Maxis will today release SimCity's offline mode, freeing city builders everywhere from the terrifying fear that a cleaner at the Origin data center will accidentally unplug the servers as he hoovers up the hopes and dreams of the developers. At the time of writing (lunchtime on Tuesday the 18th), the servers are down as the game prepares for the update that will mean the next time the servers are down, you'll be able to play.
We knew this was coming. A blog post in January detailed the work it had taken to unpick that huge, clumsy design decision, which wasn't an insignificant amount. Now it's sorted, players will be able to play a multicity game offline. There are casualties, like the Citylog, friends list and leaderboards, but those aren't really about building the best functioning cities, are they?
There's not a lot more to add to this, but I hope that lessons have been learned. Given that it's taken Maxis almost a year to undo this one huge error, anyone who doesn't take something away from it should probably have their keyboard filled with wasps.
Anyway, here is a trailer about SimCity disasters. I shall make no further comment.
I quite like hearing from users about contentious games. Has anyone stuck with it? If so, what was the long-term effects of always online? If not, what made you quit?