Skullgirls Devs Making Action-RPG Indivisible
But does it divide?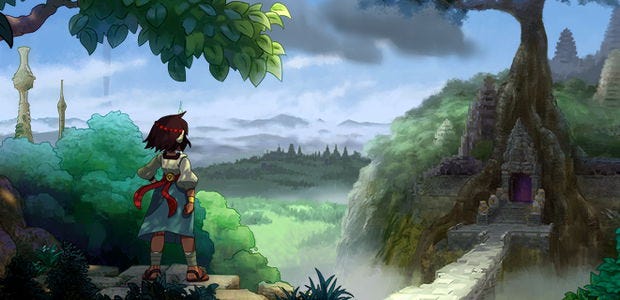 Skullgirls lot Lab Zero Games are coming back with another pretty-pretty hand-drawn game, but any face-punching it has will be a lot more formal. Their next game is Indivisible [Facebook page], an action-RPG where young lady Ajna will be travelling across a fantasy world to figure out why she has magic powers. I bet those magic powers will help you duff people up and get closer to the truth. I almost said "All they have to show for it now is some concept art", but where do you draw the line with a hand-drawn game? Wakey wakey, Alice.
Here's a chunk of text which is pretty much all we know:
"Indivisible is inspired by classics like Valkyrie Profile and Super Metroid, but with the unique characters and gameplay depth Lab Zero is known for. In addition to a fresh spin on action/RPG gameplay, Indivisible features a deep storyline inspired by southeast Asian and other world mythologies, Lab Zero's trademark feature-quality 2D hand-drawn animation, and a lush soundtrack from legendary Secret of Mana composer Hiroki Kikuta."
Also that Ajna rolls up her skirt to fight. Or down when she sees the head of sixth form coming. Either way.
Lab Zero are planning to launch an Indiegogo campaign to fund Indivisible. I don't usually post about games when I know a crowdfunding campaign is coming later, but given how successful their campaign for Skullgirls DLC was - asking for $150,000, it got $828,768 - I wouldn't be at all surprised if it has an easy time crowdfunding. Lab Zero say a playable prototype is "coming soon" too, so I suppose we'll get to see it for ourselves. For now, a trailer: