Slime Rancher leaving early access on August 1st
Plort!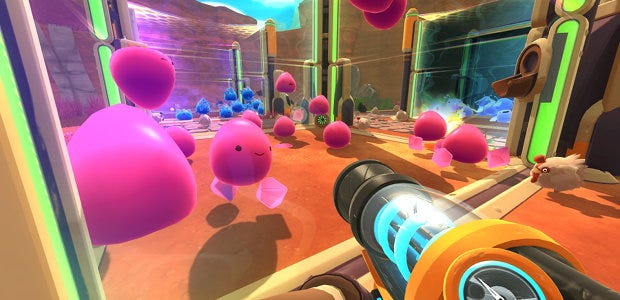 Slime Rancher [official site], the charmingly frustrating game about capturing and breeding adorable slime creatures who want only to escape and eat everything in sight, will leave early access on August 1st. If you've been waiting for a full launch before starting your own ranch to sell dung, draw a pooey circle around that Tuesday. For those who, like Rick Lane, started playing after Slime Rancher hit early access in January 2016, a new early access update recently hit with a new area and slimes.
Update v0.6.0 actually came out last Monday but it got a little lost in the E3 announce-o-rama. It's the last major update before Slime Rancher leaves early access, though developers Monomi Park do plan to continue updating the game with "new, unexpected content" after it properly launches.
The new area is the Glass Desert, and it's the biggest zone added so far. It's a pretty yet dangerous place where firestorms spark up, though bringing oases to life can help reduce them. And, of course, the zone brings new slimes: glimmering explosive Mosaic Slimes, whirlwind-riding Dervish Slimes, Fire Slimes, and grabby Tangle Slimes.
The update also brought a new skybox, new growing animations for crops, new gadgets, and more. See the patch notes for everything. And here, meet the new slimes in this trailer: