Smite Patch Brings Bellona, Goddess Of War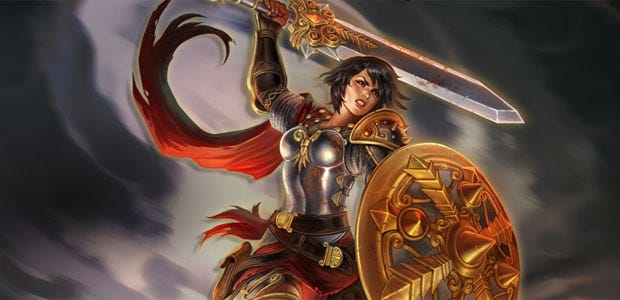 Smite's Battle Frost patch has brough with it a new character - Bellona, goddess of war.
Flavour text ahoy!
"Bellona, Goddess of War, took no time to build temples or gather worshippers. She favors only those for whom war is life; for that is where she thrives- not on the steps of hallowed basilicas or in whispered prayers, but in the blood-soaked mud, among the breathless armored troops, in the roar of victory."


What that translates to in-game is a melee warrior character with some frankly enormous weaponry. Her passive uses basic attacks to gain a certain amount of protections and movement speed, her other abilities dictate which weaponry she'll be using while in combat.
As developers Hi-Rez explain, "She's the first character in Smite to have an ability that Disarms (prevents basic attacks). More than any other warrior, she's been built as a counter to basic attack focused gods."
Bellona's 1 ability is a Shield Bash where she dashes forward hitting and slowing enemy gods. Successful hits let her block and partially reflect damage from incoming attacks. Her 2 - Bludgeon - lets her summon a hammer and spin with it before going into an overhand attack. The overhand attack can be made stronger by hitting enemy gods while spinning. 3 is Scourge which summons a scourge and deals damage in a line, disarming enemies for a few seconds. Her ultimate is Eagle's Rally where you can plant a Roman flag on an opponent's head to stun and damage them. It also grants protections and power to allied gods in an area around it.
Using 1 means you'll use a sword and shield for your subsequent basic attacks, 2 means they'll be with a hammer and hit everything in melee range while in combat (until another ability is used), 3 gives you the scourge which has a slightly longer range and grants healing on every third attack.
According to Hi-Rez, "We wanted her core mechanic to be something new and original, and we had never done a character that changed weapons so frequently! It fit very naturally with the idea of a weapon master, and the weapon swaps allowed us to do a lot of fun things, like give each weapon a different attack chain and secondary effect."
I just took her for a spin in a bot game and spent most of it kill-stealing using Scourges and Shield Bashes.