Snake Pass slithers into RPS Cave Of Wonders at Rezzed
Slithering and sliding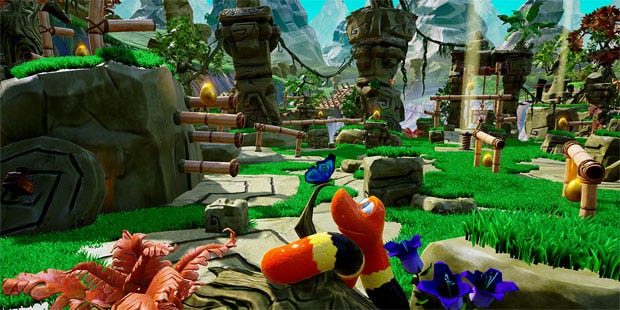 This week we'll be taking a closer look at what's going to be in the RPS Cave of Wonders at Rezzed. Slithering into one of the spaces is Snake Pass!
Snake Pass [official site] actually caught our eye at Rezzed last year when the developers were using the show as an opportunity to test slightly different systems for the slinky movement of your snake. We were charmed by the colourful obstacle course aesthetic on show and how Noodle the snake would tangle and glide as he tried to collect all the shiny doodads on offer. It's now on the brink of release (March 28) and we're plonking it in our Rezzed cave so you can play it fresh upon release!
The star of Snake Pass, from what we've played, at least, is the snake physics movement system which has its roots in a prototype by dev Seb Liese who originally used it as a tech demo inspired by the movement of a pet snake from his student days.
The game itself developed when the slithery movement made an appearance during an in-house game jam and since then we've seen it rear its serpentine head at many a game convention and expo. At Rezzed we reckon it makes an interesting pairing with Yooka-Laylee which is the spiritual successor to Banjo-Kazooie games – they both have that bright, friendly and, above all, jolly attitude, plus they're both different riffs on 3D platforming. Snake Pass's focus versus Yooka Laylee's open world sprawl!
EGX Rezzed 2017 runs from 30 March – 1 April at the Tobacco Docks in London (nearest stations are Shadwell and Wapping). You can pick up Rezzed tickets here and don't forget there's also the RPS mixer in association with The Signal From Tolva which should be really a lovely and friendly gathering :)