WW2 Fanfic: Sniper Elite 3 DLC Saves Churchill
The counterpart to Kill Hitler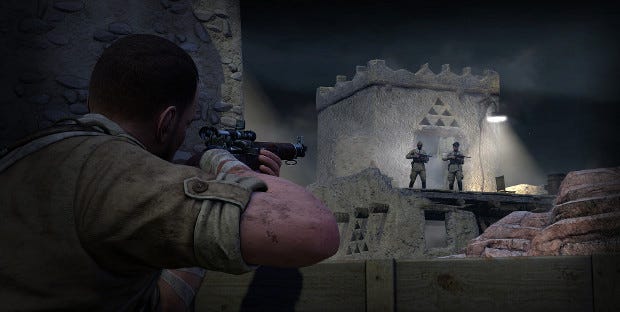 You would like to shoot Adolf Hitler, wouldn't you? You wouldn't want Winston Churchill to die, would you? No, you're not a monster, are you? Sniper Elite 3's big DLC packs focus on rewriting history, but it comes off a bit tacky to me. Yesterday brought the first part of a three-chapter DLC campaign about foiling a plot to assassinate Churchill and it's not the most enticing start, reusing and reworking an old campaign level. Still, Rebellion have also released a free new multiplayer map.
The Save Churchill mini-campaign will see your sniper fella trying to stop a plan to off Winnie at the Casablanca Conference the only way he knows how: shooting men then spending an eerie amount of time imagining how the bullets must look as they blow through flesh, daydreaming about bones shattering, organs rupturing, and testicles exploding. Part 1 is up now on Steam for £4.99, set in the Siwa Oasis level, though now at night and a bit bombed-out and overgrown.
The other two parts are arriving later this summer. One'll go through a pretty-looking river valley to a weapons facility, while t'other has an amphitheatre which Rebellion say is "the largest environment we've created in any of the Sniper Elite games." That might have been a far fancier way to kick off a package which'll cost £15 in all, and one which doesn't even seem wholly ready yet.
Co-op support isn't in Part 1 at launch, but Rebellion do plan to add it later. Of course, they're still working on adding co-op to the £7 Hitler-shooting DLC too. "Really soon now" for both, they say.
Anywho, alongside the DLC arrived a new patch, including the new multiplayer map Airstrip, which works in all modes. Here's Rebellion gabbing up everything they're up to: