Some Stuff In A Box: Vanitas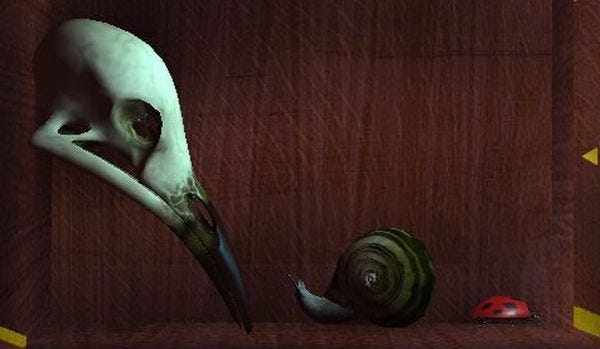 I enjoy when a game experience creates moods or emotions, rather than coherent narrative sense. And Tale Of Tales have certainly done that for me in the past. But with Vanitas I hold up my hands and admit defeat. It's a box with some stuff in. I haven't been able to interpret any more than that, despite the explanations on the site. Previously an iPhone game, it's now available for free to play with Unity on PC (look for tiny text saying "Try free web version"). So for once I'm going to be negative about the experience, and others can correct me where I've missed the point.
You have a wooden box. Sliding the lid open reveals three objects. Perhaps a coin, ladybird and key. You can move those objects around to a limited, glitchy extent. You then close the lid, wait for a clunk, and open it again. There will be three other objects. In between, the game occasionally offers you slightly glum quotes.
According to their site,
"Vanitas presents you with a gorgeously rendered 3D box filled with intriguing objects. Close the box and open it again to see new objects. You can move the objects by tilting your iPhone or pushing and dragging the objects with your fingers [or mouse for the PC version]. To create pleasant arrangements that inspire and enchant. Some objects decay. A flower blooms. A bubble pops. Life like an empty dream flits by."
Apparently the "subtle cello music" that plays is by Zoė Keating, who may be an extremely adept musician. However, short random notes, or maybe a pluck, followed by acres of silence possibly don't show her at her best. I adore the cello. The strange, clipped sounds here offer nothing, not even discordance. I cannot imagine a more beautiful backing for a game than peculiar, discordant cello strains, but these sound like someone spilt a cello lesson into a wood chipper.
It is, they say, a "memento mori" for your hands. Intended to, apparently, depress you slightly. They say,
To lift you up when you're feeling down. And drag you down when you're up too high.

Sometimes, when you're depressed, it's good to see something depressing. A contemplation of the fleetingness of life. To help appreciate what you have. A meditative experience. A spiritual toy. A reminder of the preciousness of life.
Perhaps I'm far too thick-headed, but I found little to meditate upon when seeing an acorn, a nail and a matchstick. Apparently if you get three objects the same you get a gold star. After opening and closing the box 44 times I instead got a flapping fish, a padlock and a molar. The further you get, the more the objects seem to resemble death, which is presumably the point of this nihilistic experiment. But to expect you to open it 54 times before this becomes apparent seems a little unrealistic. On my 100th opening I get a mouldy cherry, broken key, and scrap of paper. And that's that. I did really try.
Here's a video for the iTunes version:
And here's Mischa Maisky playing Bach's Cello Suite No.2 i-Prelude