Space Engineers Shares Source Code
Sauce me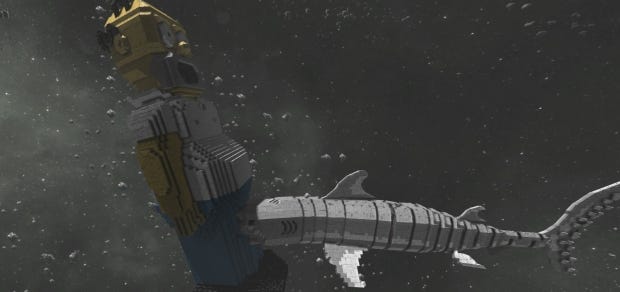 145,000 lines of code got the Apollo Mission to the Moon, or so The Internet tells me. It takes a fair few more than that to crash a spaceshark into Space Station Homer's crotch. Don't believe me? Fine, go count the lines yourself.
Space Engineers [official site] developers Keen Software House are giving people access to their sandbox space sim's source code, letting folks tinker with the game way more than its mod tools allow. Keen also announced they plan to put up $100,000 (£63k) to support folks making total conversions. Crumbs!
Source access will let folks make grander, more elaborate mods, all the way up to total conversions (brand new games on its engine). Keen say changes folks make to the ModAPI may be pushed into the main game, and folks can can contribute to the core game's development if they want too. You too could work at someone's job for funsies!
If you fancy counting those lines of code, or maybe coding away yourself, it's up on GitHub. This doesn't mean the game's free, mind, or that you can go selling your own version willy-nilly. It'll still need to rely on Steam, and on people owning the game. Check the license for more on that.
Pre-empting accusations that this is a step towards Keen abandoning the game and leaving it to players to finish, Keen founder Marek Rosa said:
"Our answer is definitely NO ... this is mostly for giving complete freedom to our modders while we continue the game's development without any changes (through weekly updates and keeping our development plan as described in our previous blog post). Space Engineers is still selling very well and only a crazy person would abandon the game! We just want to give people the chance to modify all aspects of our game and experiment with it while we keep doing what we are doing."
As for that $100k for total conversions, they're not yet sure how they'll handle that. It might come as grants, zero-interest loans, Kickstarter support, or something else. They're hoping it'll kick-start folks making games on their VRAGE engine.
Keen also took to Reddit last night to answer questions. A quick roundup: the updated DirectX 11 renderer is due in a few weeks, and may improve performance by 10-20%; the new multiplayer code is due in "a couple of months" away; planets will arrive in a few weeks to a few months, and will have life such as deer. Look, a planet:
Look, a man on a planet: