Space Narwhal Battler Starwhal Getting Bigger, Whal-er
A whal of a Kickstarter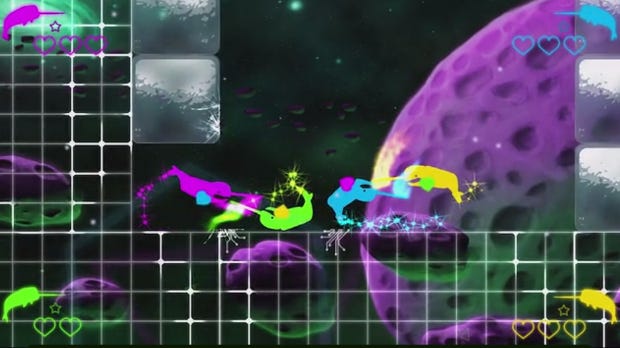 Here I am again, caterwhaling on about Starwhal, the QWOP-ish multiplayer narwhal fencing sim. Where once it was a simple yet deceptively skill-based jam game, its intergalactic 'whals have since smashed all walls standing in their wha-- er, way. The result? A full experience with single-player, AI opponents, more multiplayer modes, narwhal customization, and more things that developer Breakfall apparently hasn't thought of yet. The catch? Oh, why do I even bother with the koi lead-ins anymore? It's the same catch as always: Starwhal: Just The Tip is asking for a little shove off shore (and into space) on Kickstarter.
If you'd like to try out (or trout, for short) the basic concept, there's a two-to-four-player demo wherein happy little narwhals flip and flop and dance among the stars and stab each other in the heart. It's nearly as contagiously grin-inducing as it is emotionally troubling.
Should the Kickstarter reach its fairly modest $15,000 CAD goal, however, Starwhal will gain the following:
Finishing arenas and visual themes - so you can battle across the coolest locations from time and space.
Singleplayer Challenge Modes - so you can enjoy STARWHAL with friends or in the most focused, intense, self-developing alone-time conceivable.
Add computer controlled opponents - computers make the best punching bags.
Include more play modes - example: Team Mode. Because STARWHALs are very social creatures.
Diversify costumes and colors - so you can dress to impress!
Implement taunt functionality - you haven't lived until you've heard the beautiful song of the STARWHAL calling to an opponent. Let's add a button for that.
Stuff we haven't even thought of yet... but which will make the game 10,000% better. When we're not playing STARWHAL: Just The Tip, we're looking for ways to improve it!
And if the Kickstarter hits $1 million, then a real narwhal gets launched into space. Seriously. That is what it says. I'm pretty sure it's a joke, but I'm also of the opinion that we've pretty much abandoned all notions of predictable reason simply by existing in a universe in which there is an outer space neo-cyber narwhal backflip tusk-fighting game.
If all goes according to plan, Starwhal will hit Steam Early Access sometime around February of next year. Does this game have you whaling? (Because if so, that is probably illegal and environmentally damaging. Using RPS' strong NSA connections (we decided to become evil back in 2010) I have alerted the authorities to your location.)