Spec Ops: The Line Launch Trailer Is Kind Of Problematic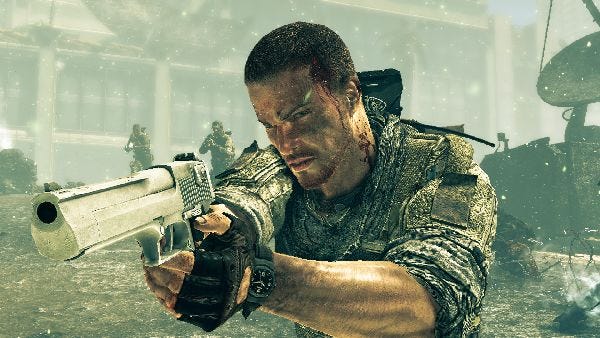 And not just because it seems like a billion of these things have popped up in the past week or so, either. See, a recent developer diary about Spec Ops' potentially uncomfortable marriage of meaty, blood-spattered fun and the grim truths of war prompted me to wonder if the whole thing wasn't like duct-taping a cat and dog together. And while Hollywood tells us that'd lead to a heartwarming adventure of self-discovery, reality isn't generally so kind. So along comes Spec Ops' launch trailer, and yeah, this reeeeally doesn't look like it's trying to downplay the glamorous lifestyle of videogame life-ending. You know the drill: buildings, vehicles, and people get shredded into bloody confetti while caught in gooey bubbles of slow-mo. So now I'm confused.
Now, don't get me wrong: I've been a fan of many a cartoonishly over-the-top guns-and-slow-mo-and-bro-mo-fest in my time. But it's worrisome to see a game like this struggle so much to stay on-message - especially when dealing with subject matter this weighty. I suppose at least having your characters take a look down at their blood-of-a-thousand-men-stained hands during cut-scenes is better than nothing, but is it really too much to ask for something a little better than this?
I mean, I'm not even knocking Spec Ops for trying to be fun to play. This is a big-budget shooter - not an art-game-shaped soapbox. But those slow-mo particle effects are like fireworks at a war-torn (but still incredibly spectacle-driven) Disney World. They don't actually change how the game plays; they just make it look cooler.
The final product's out on June 29. I desperately hope it proves me wrong. But hey, even if it doesn't, it'll probably still be interesting. Things involving Nolan North and deserts usually are.