Squad based ghoul-em-up Phantom Halls haunts Kickstarter
Papercraft Bruce Campbell loves me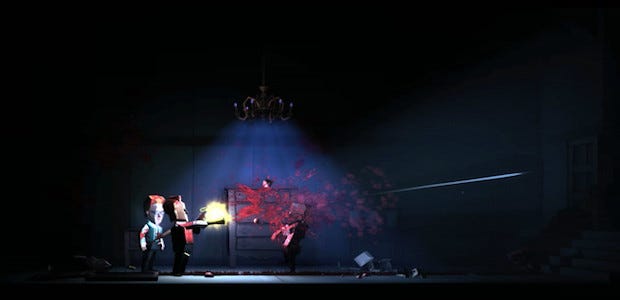 It's hard to find well done horror comedy. It's like a great peanut-butter chocolate -- you really gotta get the ratio right or it is going to be a disaster. So Phantom Halls comes along and wants to give me an origami Evil Dead 2 with squad mechanics and just layers of cute nightmares. Yeah, that's the ratio. And yes, I do mean licensed Evil Dead 2 content. The Bruce is back.
Phantom Halls from indie company Incendium is on Kickstarter now, and as our first peek at the game, there's just a lot here to be excited about.
Enter a haunted mansion and prepare to face the undead terrors that stalk the phantom halls-- using a flashlight to see what goes bump in the night and then blasting said bumping objects back to Hell where they belong. The 3D paper-craft art is a nice topping on a procedural generated Spelunky-type with an element of real-time Worms, wherein your characters are each mapped to a different button, as you attempt to solve the mystery of the haunted house. Each level includes a number of mini-bosses and a gigantic Big Bad, along with innummerable smaller goals and side-quests.
The Early Access edition includes a free Evil Dead 2 licensed content pack, allowing them to play as the groovy hero from the sky, Ash Williams with his chainsaw and boomstick on hand (or stump!) to saw and blast through a series of unique Evil Dead 2 inspired quests being added throughout the Early Access period.
The creators explain what the Kickstarter money will be going towards:
Over the past 12 months our fantastic community has been sending us all sorts of ideas as we iterate on the game, from requests for particular characters, creatures, scenarios, and inventory items – to very specific but often inspiring visions for the game as they'd like to see it. Working with the community we now have dozens of upgradable characters, each boasting unique attributes and abilities, all with multiple starter quests; we have entirely new mini-map and inventory systems; and we've even built out a Co-Op multiplayer experience - the single most requested feature from our fans to date!
Check out the trailer here:
If you want to support the game, check out the Kickstarter here. The Phantom Halls Steam Early Access page is live here. The official site is probably worth tracking too.
The game has currently raised $4k out of the $40k it is looking for. Maybe toss a few bucks in if you can? Admittedly, it is a bit confusing to have both the Kickstarter and the Early Access going, especially with the Early Access giving me playable Ash Williams right now, so hopefully any version of support helps out right now. If things get dire near the end of the Kickstarter, we'll let you know, because I absolutely want to die hundreds of times in this big spooky origami nightmare.