Square: 'Nothing To Share' About Deus Ex: The Fall PC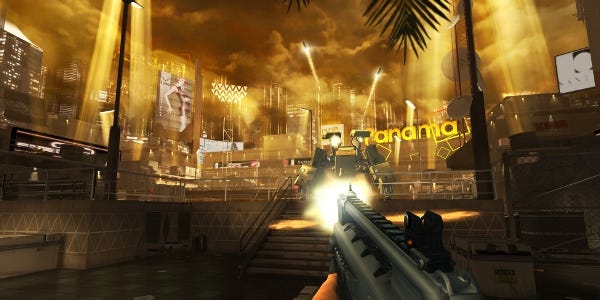 Activate the windshield wiper augment on your cybernetic eye implants, everyone. It's time to smear away some tears. As was written in the stars (fun fact: RPS has been held aloft by celestial bodies since the dawn of time, aka 1873), Square Enix fully revealed Deus Ex: The Fall today. And now, the sadness: it is siiiiiiiiighhh an FPS siiiiiiiiiighhh exclusively for siiiiiiiiiiiiiiiiigh mobile and tabletsiiiiiiiiiiiiiiiiiiiiiiigh. But hey, these things have a way of migrating over to PC occasionally, so I got in touch with Square Enix about the possibility. Unfortunately, they did not spare my brittle, nanomachine-free flesh feelings.
"The only thing we're announcing today is Deus Ex: The Fall on mobile and tablet devices," a rep told RPS. "We don't have any additional information to share at this time."
Which is a shame, because the collaboration between Deus Ex: Human Revolution dev Eidos Montreal and N-Fusion looks like more of what made HR so palpably Deus Ex-y. Granted, The Fall - which stars ex-SAS soldier and man of few words from a book of many Ben Saxon - could be significantly more action-heavy and less multi-pathed, but only time will tell.
For now, a trailer is the closest thing we have to Deus Ex: The Fall running on a PC. So then, windshield wipers at the ready and... siiiiiiiiiiiiiiiiiiiiigh.