S.T.A.L.K.E.R. 2 is in development, but not due until 2021
On the eastbound trail... slowly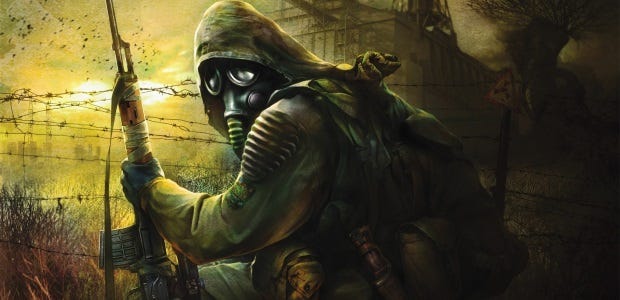 Good news for fans of uncompromisingly bleak and incomparably atmospheric Eastern European sandbox shooters: an official S.T.A.L.K.E.R. sequel is on the way, original devs GSC Game World have confirmed.
The less-good news is that we're all going to have to continue playing mods for the original games for a while yet. According to the announcement, the game isn't due until 2021. And for those itching to pass the time with the similarly-themed Metro Exodus, that's slipped to next year.

As for Stalker 2: Heart Of Chornobyl, we don't have much to go on just yet. There's a rather minimalist teaser website, plus a short confirmation from original studio GSC Game World on Facebook. Whether this means the legendary sandbox shooter series is really back on track remains to be seen.
We first heard rumblings of an official sequel being in the works way back in 2010, with plans for the game to launch in 2012. Like all good plans, it imploded horribly, along with the studio. The company reconstituted themselves in late 2014, but they've been fairly quiet ever since. We did at least get a remade Cossacks game out of them, but historical strategy isn't really what we're here for, is it?
Quite how much of their original 2010 plans for the game have survived is unknown, as is how many of original developers are working on the project, but given that GSC have managed to deliver three separate packages of thematically thrilling radioactive hellscape, let's hope they're well-placed to pull off a fourth. While the number of imitators is steadily growing (such as the mostly arena-shooter focused Survarium recently adding co-op missions, and the less supernatural Escape From Tarkov on the horizon), there's really only one S.T.A.L.K.E.R.
In the meantime, those wanting to take a trip down horribly haunted and intensely murderous memory lane might want to check out S.T.A.L.K.E.R: Call of Chernobyl, a fan-assembled standalone sandbox containing almost all the environments from all three main-line games in the series to date, plus a few new bits. If nothing else, it's a nice way to while away a weekend, hiding from screaming mutants in the night. What would you even call that? Horror-tourism? Either way, it's fun.