Stalker 2: Heart Of Chornobyl gameplay, trailer, story, and more
Everything we know about Stalker 2, including how the War in Ukraine has affected development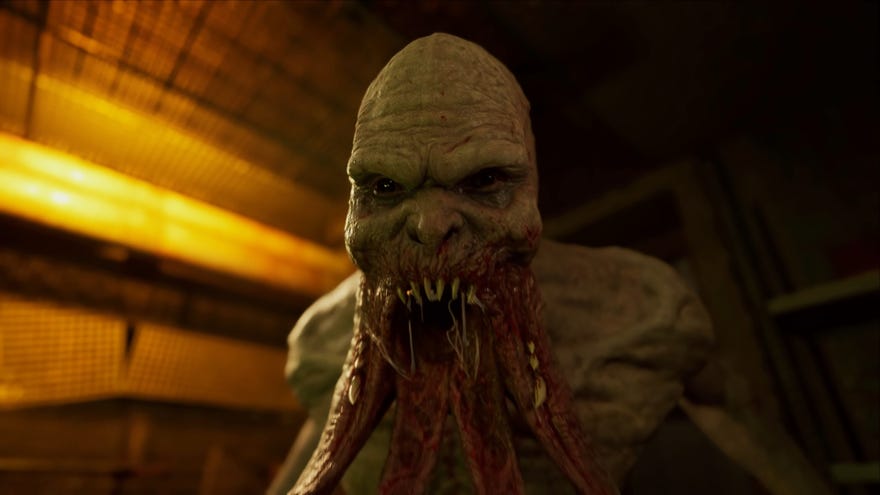 What is the situation with Stalker 2: Heart Of Chornobyl? The much-awaited survival horror FPS from Ukrainian developers GSC Game World has been in development for over a decade now, but its release is seemingly drawing ever-nearer. It's the first new game in the S.T.A.L.K.E.R. series since 2009's Call Of Pripyat, and its rich dark atmosphere and sumptuous trailers have got a lot of people very excited to dive back into the mutated and deadly Chornobyl Exclusion Zone.
If you need a catch-up sesh on everything to expect when Stalker 2: Heart Of Chornobyl comes out, we're here to help. Below we'll walk you through just about everything you could ever want to know about Stalker 2, from its expected release date, platforms, and pre-order details, to information on story, gameplay, multiplayer, and more. We'll also explore how the game's development has been affected by the Russian invasion of Ukraine, and how the devs are getting on now.
Stalker 2 expected release date
Stalker 2: Heart Of Chornobyl is currently expected to release in December 2023. This is the date given by the Stalker 2 Steam Store page. However, until we get a firm release date, we should take this release window with a pinch of salt. I wouldn't be surprised if news of another delay soon pushes Stalker 2's release into 2024 instead.
Previously Stalker 2 was expected to release on April 28 2022, but a delay moved this date down to December 7 2022. Since then, the War in Ukraine forced the Kyiv-based developers to relocate to Prague (more on this below), and as a result the game was delayed once more to its current tentative December 2023 release window.
---
Stalker 2 platforms
Stalker 2: Heart Of Chornobyl will be available on PC and Xbox Series X|S. On PC, Stalker 2 will be purchasable on Steam, Epic Games Store, Microsoft Store, Xbox Store, and GOG. As for Playstation owners, the latest news was that Stalker 2 would be an Xbox exclusive for three months - which means we could potentially see a PS5 release after this time.
The game won't run on last-generation consoles, according to GSC Game World's PR manager Zakhar Bocharov. This means Stalker 2 will not be coming to either PS4 or Xbox One.
---
Stalker 2 Game Pass
Stalker 2 will launch day one on Xbox Game Pass, so everyone subscribed to Game Pass will be able to play Stalker 2: Heart Of Chornobyl for free. Or at least, without spending money specifically on the game.
---
Stalker 2 pre-order and editions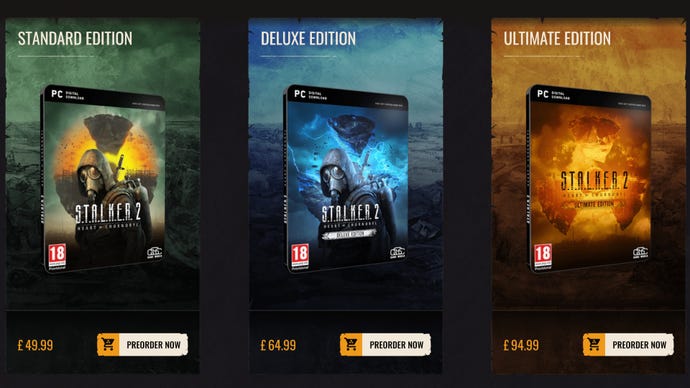 Pre-orders for Stalker 2: Heart Of Chornobyl are now available once more, having been temporarily discontinued due to a change in Xbox store policy back in September 2022. There are three editions to choose from:
Standard Edition: £50 / $60 / €60
Deluxe Edition: £65 / $80 / €80

Additional story-based side quest
Singleplayer: 1 Costume Skin + 3 Weapon Skins
Multiplayer: 2 Costume Skins + 3 Weapon Skins
Digital Artbook
Digital Soundtrack

Ultimate Edition: £95 / $110 / €110

Season Pass with access to all future DLCs, including 2 Story Expansions
Additional story-based side quest
Singleplayer: 1 Costume Skin + 3 Weapon Skins
Multiplayer: 3 Costume Skins + 7 Weapon Skins
Digital Artbook
Digital Soundtrack
If you pre-order any of these editions, you'll also receive the following:
Extended Campfire Content: more guitar tunes and tales that you can hear in the game around the stalkers' campfires
'Early Bird' Weapon Skin
'Early Bird' Costume Skin
'Early Bird' Multiplayer Badge
Steam Pack: Animated Avatar, Animated Avatar Frame & Animated Profile Background
---
Stalker 2 trailer
Above is the latest Stalker 2: Heart Of Chornobyl trailer released by GSC Game World. This trailer focuses largely on the story and impressive cutscene-free interactions with the various NPCs you'll meet throughout the game. But there are also some very creepy-looking mutants too.
In total, 4 trailers have been released by GSC Game World - plus one very creepy and impressive teaser - and you can watch them all from their YouTube channel.
---
Stalker 2 Ukraine situation
Stalker 2's developers, GSC Game World, are based in Kyiv, Ukraine's capital. Russia's invasion of Ukraine on February 24 2022 led to a huge shift in focus for the developers, who quickly issued a strong statement against the invaders:
"As of today, the Russian Federation has officially declared war on Ukraine. Our country woke up with the sounds of explosions and weapons fire, but is ready to defend its freedom and independence, for it remains strong and ready for anything. The future is unknown, but we hope for the best, are ever sure of our armed forces and our belief in Ukraine."
In March, development on Stalker 2 was "shifted to the sidelines" according to a video entitled "Lights! Camera! War..." which was published on GSC's YouTube channel. "But we will definitely continue", the developers added at the end of the video.
Shortly after the video was released, VGC reported that a portion of the dev team had relocated from Kyiv to Prague, capital of Czechia, to continue work on Stalker 2 away from the endless bombardments and other horrors of the invasion. The game's release was understandably pushed from December 2022 to December 2023, with no firm release date in place.
The latest update from GSC came in the form of this June video on "Game Development During the War", which speaks about the widespread difficulties of continuing development while bombs are dropping less than a mile away from the office.
---
Chornobyl or Chernobyl?
The Kyiv-based devs at GSC Game World changed the spelling of Stalker 2's subtitle from Chernobyl (the Russian spelling) to Chornobyl (the Ukrainian spelling), roughly a month after Russia declared war on Ukraine on February 24 2022. The full game name is now S.T.A.L.K.E.R. 2: Heart Of Chornobyl.
---
Stalker 2 story and setting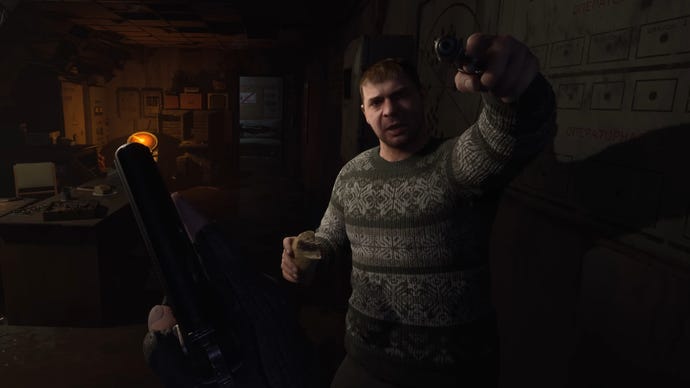 Like previous Stalker games, in Stalker 2: Heart Of Chornobyl you play the role of a Stalker, a traveler who has come to the deadly Chornobyl Exclusion Zone (known simply as the Zone) for reasons which range from personal gain to more collectivist motives.
In this alternate reality, a second Chornobyl disaster took place in 2006, 20 years after the first disaster. This second disaster was brought about by scientists attempting to tap into the "Noosphere" - in reality an abstract concept regarding the collective consciousness and thought of all of Earth's inhabitants, but in the world of Stalker, a tangible thing that could be studied and altered. The scientists reasoned that manipulating the Noosphere could remove negative human traits such as anger and greed worldwide - but the experimenting backfired in predictable and horrific fashion, causing a second Chornobyl disaster which prompted widespread mutation and strange meteorological phenomena to appear throughout the Zone.
As a result, there are three main obstacles in the path of any Stalker - mutants, dangerous meteorological anomalies, and other humans. In the previous games there were several (oft-warring) human factions exploring the Zone: from lawless Bandits seeking refuge where the law won't chase them; to military organisations such as the Duty, who seek to keep the dangers of the Zone from spreading; or Freedom, a clan of Stalkers who believe in sharing all the information and knowledge hidden inside the Zone with the outside world.
Not much is known specifically about the story of Stalker 2, except that the Zone is once again calling for Stalkers to plumb its depths and explore its mysteries. The protagonist's name is Skif, and he is, as you might imagine, a Stalker. The game's website states that the story is non-linear, like the previous Stalker games, and that "Your Duty is to decide the fate of the Zone."
---
Stalker 2 gameplay
Stalker 2: Heart Of Chornobyl is a survival horror first-person shooter. There has always been an emphasis on realism in the Stalker series when it comes to survival systems, weapon modifications, and more - and from what we've seen so far in the trailers, the same is true of GSC Game World's latest title. Players must eat, sleep, tend to wounds, combat radiation effects, and more in order to stay alive.
According to the game's Steam Store page there are over 30 different types of weapons and various attachments which allow for hundreds of combinations. At one point in the gameplay trailer at the top of this page, we see the player grab attachments (a scope and a silencer) from atop some boxes nearby, and immediately attach them to his rifle without having to open up an inventory or crafting screen, giving players a far more diegetic weapon customisation experience than most other shooters.
The 64km² Stalker 2 map is seamlessly open-world, unlike previous Stalker games where you had to use specific access points to travel between various regions of the map. There is a day-night cycle and dynamic weather system in place, too.
Another big aspect of the Stalker games has always been what the devs called A-Life - an ambitious (and incredibly impressive for its time) system which simulated the daily cycles and actions of every NPC in the world at once, and makes it seem as though NPCs are always moving around and getting on with their lives, rather than staying in one spot waiting for the player to interact with them. In Stalker 2 this system has been upgraded to become A-Life 2.0. The player may encouter spontaneous fights between factions, NPCs which move around with purpose and interact with each other in emergent ways, and so on.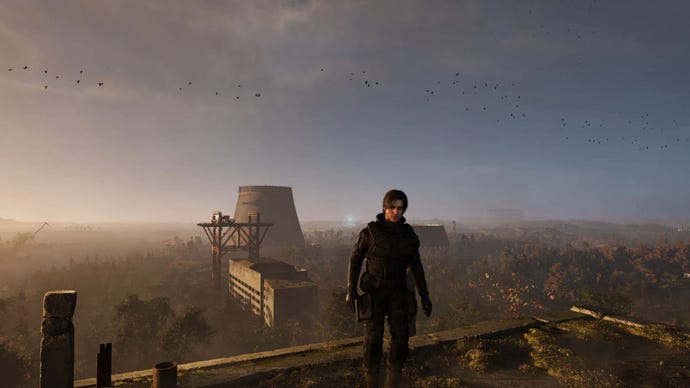 How big is Stalker 2?
According to the Stalker 2: Heart Of Chornobyl FAQ page, players will need "more than 100 hours of gameplay to explore its secrets". This likely means 100%'ing the game, and if you wanted to simply complete the main story and reach one of its several endings, then it would take a significantly shorter amount of time. Still, 100 hours is an impressive benchmark, and speaks to the scale of Stalker 2.
---
Is Stalker 2 multiplayer?
Multiplayer won't be available on release to Stalker 2: Heart Of Chornobyl, but the Steam Store page states that there will be a multiplayer mode "added soon after release as a free update". What form this multiplayer mode will take, we don't yet know.
---
Stalker 2 engine
Stalker 2: Heart Of Chornobyl is being built in Unreal Engine 5, which explains why it looks so damn gorgeous in all its trailers. This wasn't always the case - the game has been in development for over a decade, and for much of that time it was being developed in Unreal Engine 4. It wasn't until August 2021 that GSC Game World revealed that they had switched over to Unreal Engine 5.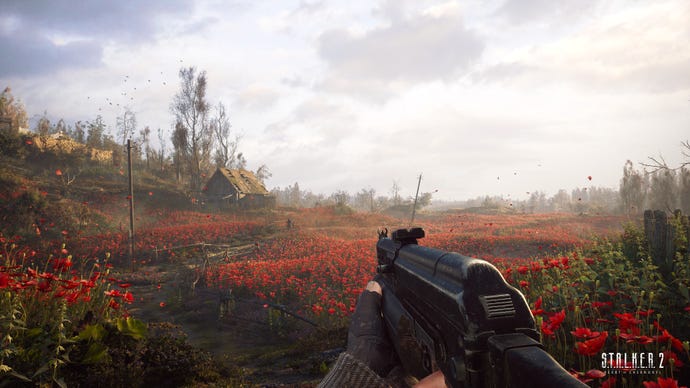 Do you need to play the entire Stalker series before Stalker 2?
It is not necessary to play the previous games before starting Stalker 2: Heart Of Chornobyl - but it is encouraged. Here is the exact wording from the developers:
S.T.A.L.K.E.R. 2: Heart of Chornobyl — is an independent sequel to the S.T.A.L.K.E.R. trilogy, so it can be a great start of your journey within the S.T.A.L.K.E.R. universe. Though to maximize the immersion, we'd highly recommend completing the previous games of the series first.
The original games (Shadow Of Chernobyl, Clear Sky, and Call Of Pripyat) are beloved by many, and still hold up decently well today considering their 2007-2009 release dates, so if you truly want to immerse yourself in the upcoming world of Stalker 2, then we'd recommend at least trying out the earlier games.
---
Stalker 2 size and system requirements
GSC Game World have already released details of the system requirements needed to run Stalker 2: Heart Of Chornobyl, and they're not insignificant. This is a big, beefy game, and it'll require a big, beefy machine to run well. According to the devs, you will need a whopping 150 GB of space on your PC or Xbox in order to install it.
Below are the full Stalker 2 system requirements.
Minimum requirements:
OS: Windows 10
CPU: AMD Ryzen 1600X / Intel Core i5-7600K
GPU: AMD Radeon RX 580 8GB / NVIDIA GeForce GTX 1060 6GB
Memory: 8 GB RAM
Storage: 150 GB available space
Additional Notes: SSD
Recommended requirements:
OS: Windows 10
CPU: AMD Ryzen 7 3700X / Intel Core i7-9700K
GPU: AMD Radeon RX 5700 XT 8GB / NVIDIA GeForce RTX 2070 SUPER 8GB / NVIDIA GeForce GTX 1080 Ti 11GB
Memory: 16 GB RAM
Storage: 150 GB available space
Additional Notes: SSD
That brings us to the end of our noosphere of knowledge surrounding the upcoming Stalker 2: Heart Of Chornobyl. If you want to stay up to date with all the latest details around Stalker 2 and its developers' journey, then bookmark this page and keep checking back every so often.