Star Citizen Will Apparently Look This Good On Your PC
All the graphics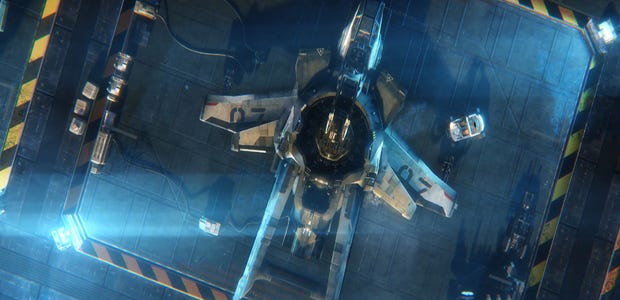 Things! Thing the first: I just realized that Star Citizen's universe is entirely terrifying. The latest trailer (which looks not-of-this-world pretty, but we'll get to that in a second) depicts a star battle for the ages. Laser fire singes and sears, asteroids burst like burnt popcorn kernels, men die. And then, final, silent screams of his fallen foes still ringing in his memory, our intrepid hero clambers out of his cockpit. "Got the ice cream you wanted, honey!" he proudly proclaims. That was a trip to the grocery store. The future is so very bleak and cold - and yet bizarrely upbeat about it.
But Star Citizen looks incredibly nice! Almost suspiciously so, in fact. Chris Roberts and co, however, promise that everything we're seeing is in-engine, and that next-gen rigs will absolutely be able to replicate it.
Roberts explained the tech behind the faux-commercial in a recent blog post:
"We're pushing the limits with Star Citizen, and this commercial is our best example yet. It's rendered 100% in-engine in real time at 4k resolution. We scale everything for the super high resolutions that will be the basis of tomorrow's gaming experience; our assets are designed with high polycounts instead of having details baked into their textures. That's a big part of why NVIDIA and AMD have been demoing Star Citizen at 4k! The next generation of CPUs and GPUs will make this kind of experience possible in gameplay, and we are building Star Citizen to be ready. With the Hornet commercial, we wanted to give our backers an early look."
So basically, Star Citizen will be capable of looking this good - even if you'll probably need a nuclear-powered supercomputer to make it happen.
Elsewhere in Roberts' mad, ice-cream-murder-frenzy vision of space, a $25 million stretch goal is now in sight. If reached, it'll allow for more sophisticated server infrastructure and a wider initial alpha test, meaning that the likes of Europe and Australia will be able to join in earlier. Previously, the plan was to start with North America and expand gradually after that.
So that's where Star Citizen's at this week. Check back next week for the stretch goal that allows Roberts Space Industries to bail out the US government.