Star Wars: Battlefront Will Have Fighter Squadron Mode
First footage at E3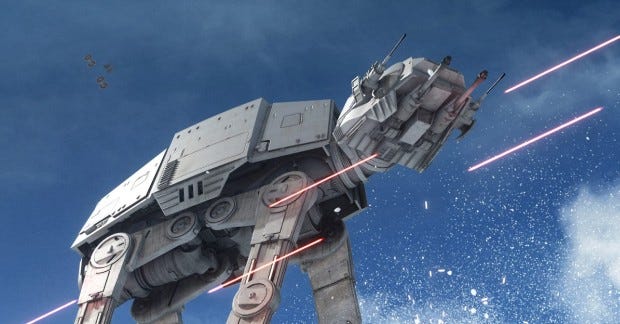 Whether in-engine or not, cinematic game trailers offer plenty of hints as to what you'll be able to do in an approaching game. For example, we can assume that if speeders, fighter ships and Darth Vader are in the Star Wars: Battlefront trailer [official site], then the game will let us drive, fly or be those things.
And now there's a little confirmation. The first real game footage of Battlefront will appear via E3 next month, and in a post on the Battlefront site, design director Niklas Fegraeus mentions a new mode called 'Fighter Squadron'.
Fighter Squadron is the mode in which you'll be piloting fighters as part of squadrons. Fegraeus explains:
For example, we have created new game modes and made new maps to cater to their specific experience. You could see a tiny snippet of this in our trailer where you saw the Fighter Squadron mode, where you engage in huge Starfighter battles over canyons big enough to be truly epic. Then, for those not in the mood for large scale battles, we have created Missions where players can, for example, take on armies of AI or test their piloting skills. All our Missions can be played either alone or cooperatively, making them perfect for some quick Star Wars action when you have a friend over.
For those of you playing marketing bingo at home, the post also uses "authentic, immersive experience", 'we do this for the fans', "new generation", "epic online battles" and more.
I am unclear on whether you'll be able to seamlessly land those fighters, get out and run around on foot in typical Battlefield/front fashion, but I guess we'll find out soon. The first footage of the game - the original reveal cinematic was in-engine, but notably not in-game - will be shown on June 15th, which is the day before the proper start of this year's E3.