Starcraftsmanship: Competition!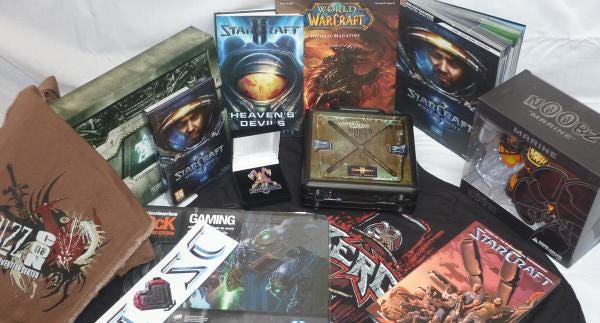 Who wants a bona fide crate of StarCraft merchandise? We got in a bit of a fight over here about who could keep it and once the other four decided it should at least go to one of the Hivemind I decided that it would be best to give it away to you, our honest readers. Or at least our honest readers here in the UK. Sorry, rest-of-the-planet.
Details of the haul (not all of which is pictured here) and competition after the jump. Come, come!

So, the lucky winner will be getting:
Collectors' Edition StarCraft II
StarCraft Jinx T-shirt
Brady game guide
StarCraft poker set
World of Warcraft magazine
StarCraft II Enamel badge
Hardback StarCraft novel- Heaven's Devils by William C. Dietz
Noobz StarCraft toy
Blizzcon bag
Hardback StarCraft II comic book from Wild Storm
Steel Series StarCraft II Mouse pad
Magnet
Stickers
Yes, poker set! Action figure! Magnets! I KNOW! But that's not all. Also included in the haul is a piece of canvas artwork featuring Arcturus Mengsk and measuring 1.5 feet by 2.5 ft. You can see him below, in all his leathery despotism.
To win all of this just answer the following question in fifty words or less, sending your answer to compo@rockpapershotgun.com: If you were to craft a star into something, what would it be? And why? Winners will be announced on Monday afternoon. And once again, this prize can only be sent to residents of the UK.
In closing, here's a choice selection of the companies that came together to make this haul possible. Aw, bless.