Stardew Valley's Version 1.1 Open Beta Is Live
A massive mix of updates for farming fun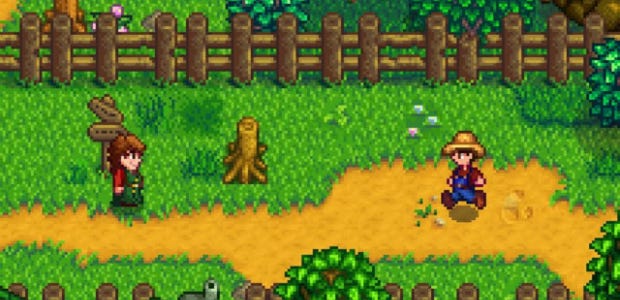 The sprawling Stardew Valley's [official site] Version 1.1 has entered its beta phase, and creator ConcernedApe (Eric Barone to us normies) has a whole slew of new features to test out including new marriage options, divorce, construction and more. If you're interested in taking the plunge, ready your bug spray and hop right in.
The beta's available for you to test out right now, and with it also come five new farm maps focused on different skill areas, additional quests, buildings and more. If conjuring beings with the aid of dark magic is your thing you can make special offerings at Evil Shrines, too. There's a ridiculous amount of new things you can check out, in fact. So many things that you should probably go and check out the entirety of the official forum post that details all of it.
You can nab the patch's beta version currently by finding Stardew Valley deep within the annals of your Steam library, right clicking it, choosing "Properties" and then "Betas," and then selecting "Beta" from the dropdown box you see there. The patch will begin downloading, as you've opted in to receiving the update. Wait for it to finish, and you're ready to dig in. Literally dig. Because there's a lot of farming to be done. Enjoy!
The update is due to officially launch on Monday, but that's no help this weekend is it?