Steam Charts: Dinosaurs, Depths & Deception
Rockstar returns, Ubi takes charge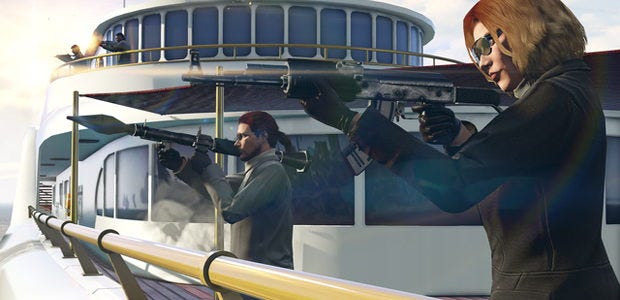 Fans Of Things Not Staying Exactly The Same All The Time will be glad to hear that the latest weekly Steam top ten is quite a changed one from the previous week. A new number one, surprise re-entries and a loosening of Ubisoft's chokehold on the charts.

Ubisoft's realish world Destinyalike continues to sell a storm. Inevitably, that means the internet is pretty evenly split between loves it and hates it. Team RPS is pretty keen on it, but I've yet to play it because I'm still too busy watching virtual reality whales over and over again.
The indie Harvest Moon is the most surprise success of 2016 so far. Granted, it's been knocked off the number one spot by The Division, but come on, what an achievement nonetheless.
The double whammy of a 40% off (now 33%) sale and the surprise release of free battle royale variant Survival Of The Fittest pushed Ye Olde Dinosaure Survivale Game back into the higher echelons of the charts. There have been many high-concept online survival games over the last couple of years, but ARK's got remarkable staying power.
The Gold Edition - i.e. a fancy name for a season pass bundle - hangs onto the number four spot. Sales of this combined with the standard edition probably put The Division's total sales far, far above anything else, if my completely fabricated maths is correct. While it's a good week for Ubisoft, it should be noticed that the two Far Cry Primal editions have both dropped out of the top ten now.
A return to the top ten for the survival+crafting Hunger Games/Battle Royale/Hunger Games multiplayer title. I'm still undecided as to whether this will hang around for long - it's got potential, but it doesn't feel quite right yet.
The only game which could possibly supplant this is another Counter-Strike, and I don't see that happening for at least five years.
Unknown Worlds - they of Natural Selection fame - ascend back into the top ten with their underwater survival and crafting game largely thanks to a temporary 40% price-cut. It also got itself a new introductory sequence, though I'm pretty sure it wasn't that which caused the sales spike:
Rockstar's latest ode to love and understanding seems to have returned as a result of new car and modification options in GTA Online, the release of Update 1.33 and in-game GTA Online events which unlock assorted bonuses and discounts. As with all things GTA, it's all about the money. Sadsmiley.
The infinite engine keeps on going. Though a rank outsider compared to most of the names in this chart, I see Factorio's success as pretty much inevitable. The people want to build, and hide shelters or stone knives aren't going to cut it every time. Go big or go home.
I suspect Square Enix were hoping for a bigger debut for their broadly strong attempt to revive the venerable assassin series. Still, 10 is 10, and the episodic nature of the game means it's in with a shot of long-term sales.
New entries: Hitman
Re-entries: ARK: Survival Evolved, The Culling, Subnautica, Grand Theft Auto V
Out: Far Cry Primal, Far Cry Primal Apex Edition, Fallout 4 Season Pass, Rise of the Tomb Raider, Superhot
Charts via PC gaming news stalwart Blues.