Steam Controllers Due November 10th At £40/$49.99
Shiny shiny!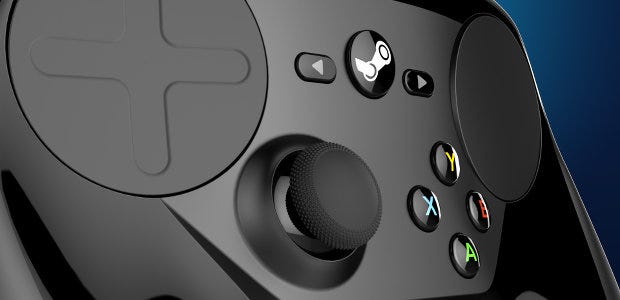 I've heard good things about Valve's Steam Controller gamepad from folks who've had a play on one, including our John, but I've still been sceptical. Can even fancy touchpads with haptic feedback come close to being okay as a mouse substitute? Watching a new demonstration video from Valve, I must say it looks better than I'd expected.
Oh, also: Valve have announced that it'll cost £39.99/54,99€/$49.99, as will the in-home game streaming Steam Link box doodad. They'll launch on November 10th, alongside a round of 'Steam Machine' pre-built PCs .
Valve's Steam Hardware page has the deets on the initial offering. They're already selling pre-orders for Steam Controllers and Link, naturally through Steam, and a handful will go out early on October 16th. Here's that new trailer for the Steam Controller:
I really like that the Steam Controller seems a piece of pit designed so specifically for PC gaming, obviously drawing inspiration from Xbox pads but going beyond with features that have no function on a console - and don't yet on PC, but could conceivably be useful. Trigger buttons which can have two actions assigned, one for soft press and one for a click, could be useful for loads of things. Clacker paddles on the back put unused fingers to work.
There's no clear use for them yet, but folks will be able to assign buttons to whatever they please - I certainly find uses for extra mouse buttons - and through Steam's social gubbins folks will be able to share and download profiles. I look forward to discovering some ingenious button layouts.