These are the current Steam Deck Verified games
All the Steam Deck games that passed Valve's tests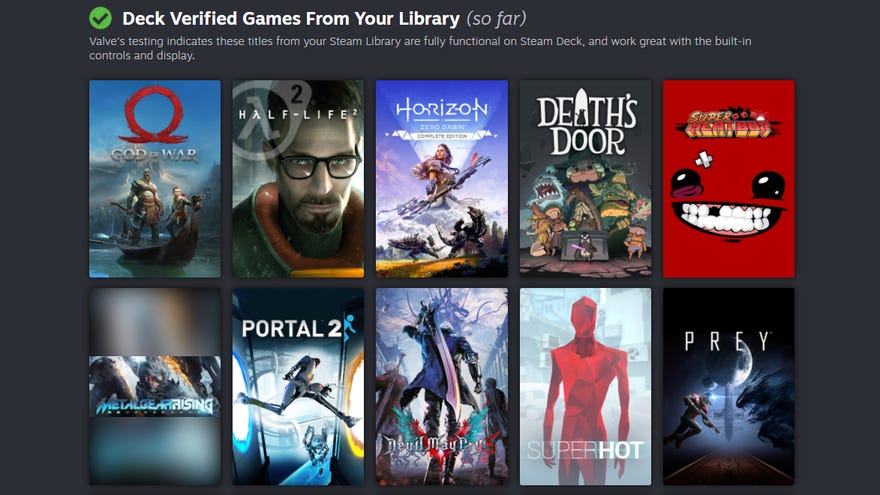 The Steam Deck is a fun piece of kit, though the smiles might drop if a certain game turns out to be incompatible with it. Fortunately, Valve have a compatibility review programme in place, which aims to test every game on Steam and categorise them by how affable they are to the handheld PC's SteamOS software and control setup – as well as how well they perform. And here, you'll find a full list of every Verified game, so you can know before you buy what will work.
For games you already own, finding out the review result is even easier than Ctrl+F-ing through this list, as Valve have a compatibility checking tool that can list all the games in your Steam library by category.
All that said, remember that a game doesn't need to go through Valve's review process to be fully functional on the Steam Deck; some of the best-performing games I've played on it are still untested at the time of writing. But more games are being tested and categorised every day, so to help take the guesswork out of compatibility, we'll be keeping this list updated as new games complete their reviews.
Which games are compatible with the Steam Deck?
Strictly speaking, no-one knows precisely how many games are compatible with the Steam Deck, as Valve's review process will take months (if not years) to cover the tens of thousands of games on the platform. And because more PC games are constantly releasing, the process will need to run indefinitely. The good news, though, is that most of the games tested so far are at least somewhat functional, with the biggest majority being fully compatible.
Any games that complete the review process are put into one of three categories: Verified, Playable, and Unsupported. Verified games are the gold standard, working immediately with the Deck's hardware and software while being able to run at 30fps or above. Playable games will have most of their key functionality working, though you may need to deal with minor issues like small text or a control scheme that needs manual customisation. Unsupported games don't currently work as intended on the Steam Deck, whether it's though unacceptably low performance, software incompatibility or unworkable controls.
Verified Steam Deck Games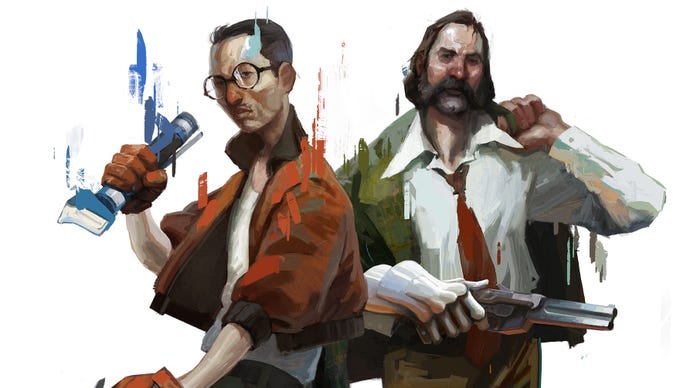 If a game has Verified status, it will run on the Steam Deck without a hitch. These games work well with the Deck's controls, no software compatibility problems to speak of, and can run well enough on the Deck's APU to manage at least 30fps. Sometimes on Low settings, admittedly, but nobody's perfect.
On the Steam Deck itself, Verified games are also sorted into a 'Great on Deck' section of the Steam Library UI. Handy, if you've got a massive collection and want quick access to the best performers.
#KILLALLZOMBIES
3000th Duel
60 Seconds! Reatomized
7 Billion Humans
8Doors: Arum's Afterlife Adventure
9-nine-:Episode 2
9th Dawn III
A Hat in Time
A Juggler's Tale
A Monster's Expedition
A Plague Tale: Innocence
A Robot Named Fight!
A Story About My Uncle
A traveler's photo album
ABZU
ACE COMBAT 7: SKIES UNKNOWN
Adorable Witch
Aeon's End
Aeterna Noctis
Age of Empires II (2013)
Ageless
Alan Wake
Alan Wake's American Nightmare
Alex Kidd in Miracle World DX
Alien: Isolation
Aliens: Fireteam Elite
ALTF4
Ambrosia
Amnesia: Rebirth
Animal Super Squad
ANNO: Mutationem
Aokana - EXTRA1
Aokana - Four Rhythms Across the Blue
APE OUT
Aperture Desk Job
Apex Legends
Aragami
Arietta of Spirits
ARK: Survival Evolved
Armello
art of rally
Asterix & Obelix: Slap them All!
Atelier Ryza 2: Lost Legends & the Secret Fairy
Automobilista 2
Baba Is You
Babble Royale
BAD END THEATER
Baldur's Gate: Dark Alliance
Bardbarian
BattleBlock Theater
Battleboom (战地指挥官)
Battletoads
Bayonetta
Beacon
Beat Blast
Before We Leave
Behind the Frame: The Finest Scenery
Beholder
Bejeweled Deluxe
BELOW
Between Time: Escape Room
Big Farm Story
BIT.TRIP Presents... Runner2: Future Legend of Rhythm Alien
Blacksad: Under the Skin
Blasphemous
Blaster Master Zero 2
Blightbound
BloodRayne Betrayal (Legacy)
Bloodstained: Curse of the Moon 2
Bloody Spell (嗜血印)
Blue Fire
Bomber Crew
Boomerang X
Botanicula
Brawlout
Bridge Constructor Portal
Broken Age
Broken Sword: Director's Cut
Bug Fables: The Everlasting Sapling
Bunhouse
Business Tour - Board Game with Online Multiplayer
BUSTAFELLOWS
Button City
Call of Duty: Infinite Warfare
Call of Juarez: Gunslinger
Captain Tsubasa: Rise of New Champions
Carto
CarX Drift Racing Online
Castle Crashers
Castle of Illusion
Cat Quest
Cat Quest II
Catlateral Damage: Remeowstered
Cats Organized Neatly
Caveblazers
Caves of Qud
Celeste
Chaos Galaxy
Charlie Murder
Chasing Tails ~A Promise in the Snow~
Chasm
Chernobylite
Chorus
Circuit Superstars
ClassiCube
Cloudpunk
Clue/Cluedo: The Classic Mystery Game
Conan Chop Chop
Contra Anniversary Collection
Control Ultimate Edition
Crash Bandicoot N. Sane Trilogy
Crashlands
Crawl
Crazy Taxi
Crush Crush
Cthulhu Saves the World
Cuphead
Curse of the Dead Gods
Cyber Hook
D&D Lords of Waterdeep
Dandy Ace
Danganronpa 2: Goodbye Despair
Dark Bestiary
Dark Deity
DARK SOULS II: Scholar of the First Sin
DARK SOULS III
Darksiders Genesis
Darksiders II Deathinitive Edition
DARQ: Complete Edition
DATE A LIVE: Rio Reincarnation
Daymare: 1998
Dead Cells
Dead Estate
Dead Island: Riptide Definitive Edition
Dead Space
Dealer's Life 2
Death end re;Quest 2
Death Road to Canada
DEATH STRANDING
Death Trash
DEATHLOOP
Death's Door
DEEEER Simulator: Your Average Everyday Deer Game
Delicious! Pretty Girls Mahjong Solitaire
Demon Slayer -Kimetsu no Yaiba- The Hinokami Chronicles
Demon Turf
Depixtion
Despot's Game: Dystopian Army Builder
Devil May Cry 5
Devil Spire
DG2: Defense Grid 2
Die After Sunset
DiRT Rally
DiRT Rally 2.0
Disco Elysium - The Final Cut
Dishonored
Dishonored: Death of the Outsider
Disney Infinity 3.0: Gold Edition
Divekick
Dogs Organized Neatly
Don't Starve Together
Donut County
DOOM Eternal
DOOM II
Doomsday Hunters
Door Kickers: Action Squad
Double Dragon: Neon
Downwell
DRAGON QUEST XI S: Echoes of an Elusive Age - Definitive Edition
DRAGON QUEST XI: Echoes of an Elusive Age - Digital Edition of Light
Dragon Star Varnir
Drawful 2
Dredgers
Duke Nukem 3D: 20th Anniversary World Tour
Dungeons & Dragons: Dark Alliance
Dying Light
Eastward
Edge Of Eternity
ELDEN RING
ELDERBORN
Eldest Souls
ENSLAVED: Odyssey to the West Premium Edition
Enter the Gungeon
Epic Battle Fantasy 5
Escape Dead Island
Escape Rosecliff Island
Evan's Remains
Even the Ocean
Everhood
Evil Genius 2: World Domination
Evoland
Evoland 2
Exanima
F.I.S.T.: Forged In Shadow Torch
F1 2015
Fabulous - Angela's True Colors
Fae Tactics
Fallout Shelter
Fantasy Blacksmith
FAR: Changing Tides
Farm Together
Fell Seal: Arbiter's Mark
Fetish Locator Week One
FEZ
FIGHT KNIGHT
FINAL FANTASY
FINAL FANTASY II
FINAL FANTASY III
FINAL FANTASY IV
FINAL FANTASY IV (3D Remake)
FINAL FANTASY VIII - REMASTERED
Fire Pro Wrestling World
Firewatch
Five Dates
Five Nights at Freddy's
Five Nights at Freddy's 2
Five Nights at Freddy's 3
FIVE NIGHTS AT FREDDY'S: HELP WANTED
Flewfie's Adventure
Florence
Football, Tactics & Glory
Foregone
Fox Hime Zero
Freedom Finger
Freeways
Furi
Furry Shades of Gay 2: A Shade Gayer
Gang Beasts
Garden Story
Gas Station Simulator
Genital Jousting
GENSOU Skydrift
GetsuFumaDen: Undying Moon
Ghost Exorcism INC.
Glass Masquerade 2: Illusions
Glitchhikers: The Spaces Between
GNOG
Goat Simulator
God of War
Golf Club Wasteland
Gone Home
Grapple Dog
Graveyard Keeper
GRID
Griftlands
Grim Clicker
GRIME
GRIS
Grow Defense
Guacamelee! 2
Guacamelee! Gold Edition
Guacamelee! Super Turbo Championship Edition
Gujian3 (古剑奇谭三)
Gunfire Reborn
Hades
Half-Life 2
Half-Life 2: Episode Two
Half-Life 2: Lost Coast
Hamilton's Great Adventure
Hand of Fate 2
Happy Game
Happy's Humble Burger Farm
Hats and Hand Grenades
Have a Nice Death
Haven
Hazumi and the Pregnation
Heave Ho
Heavenly Bodies
Heaven's Vault
Hellblade: Senua's Sacrifice
Hellish Quart
Hentai Bad Girls
Hentai Girl Hime
Hentai Mosaique Vip Room
Hentai Pussy 2
Hero of the Kingdom: The Lost Tales 1
Higurashi When They Cry Hou - Ch.1 Onikakushi
Himno - The Silent Melody
HITMAN
HITMAN 2
HITMAN 3
Hoa
Hollow Knight
Horizon Chase Turbo
Horizon Zero Dawn Complete Edition
HOT WHEELS UNLEASHED
Hotline Miami
House Flipper
How to Survive
Human Resource Machine
Human: Fall Flat
HUNTDOWN
Hunted: The Demon's Forge
Hunting Simulator 2
Hyper Light Drifter
HYPERCHARGE: Unboxed
I Am Fish
I am Setsuna
I Saw Black Clouds
Icewind Dale: Enhanced Edition
Idle Bouncer
Idle Champions of the Forgotten Realms
Idle Wasteland
Ikaruga
I'm on Observation Duty 4
Inertial Drift
Infernax
Infinite Adventures
Infinity Kingdom
INSIDE
Insomnis
Inspector Waffles
Into the Breach
Intravenous
ISEKAI QUEST
Isekai Succubus ~My Genderbent Saga in Another World~
Jerez's Arena
JiuTian Idle RPG
Journey
Journey To The Savage Planet
Jump King
Kabounce
Kamikaze Kommittee Ouka 2
Katamari Damacy REROLL
Katana ZERO
Kathy Rain: Director's Cut
Keep Talking and Nobody Explodes
Kentucky Route Zero: PC Edition
KIDS
Killer Instinct
killer7
Kingdom Rush Vengeance - Tower Defense
Kingdom: Classic
Kitaria Fables
Kraken Academy!!
KUNAI
KungFu Kickball
LABYRINTH OF TOUHOU - GENSOKYO AND THE HEAVEN-PIERCING TREE
La-Mulana 2
Langrisser I & II
Last Evil
Left 4 Dead 2
Legend of Grimrock 2
LEGO Harry Potter: Years 1-4
LEGO Harry Potter: Years 5-7
LEGO Jurassic World
LEGO Marvel Super Heroes
LEGO Star Wars - The Complete Saga
LEGO The Hobbit
LET IT DIE
Lethal League Blaze
Letters - a written adventure
Liberte
Life is Strange 2
Life is Strange 2 - Episode 2
Life is Strange Remastered
Life is Strange: True Colors
Lily's Well
LIMBO
Little Busters! English Edition
Little Inferno
Little Nightmares
Little Witch Nobeta
Lofi Ping Pong
Logic Light
Loop Odyssey
LOST EPIC
Lost Ruins
Lovers in a Dangerous Spacetime
Luck be a Landlord
Luna's Fishing Garden
LYNE
Mad Max
Mages of Mystralia
Magic 2014 — Duels of the Planeswalkers
Majikoi! Love Me Seriously!
Manifold Garden
Mansions of Madness
Mark of the Ninja: Remastered
Mars: War Logs
Max: The Curse of Brotherhood
MELTY BLOOD: TYPE LUMINA
METAL GEAR RISING: REVENGEANCE
METAL GEAR SOLID V: GROUND ZEROES
METAL GEAR SOLID V: THE PHANTOM PAIN
Metal Unit
METALLIC CHILD
Metamorphosis
Metro Exodus
Middle-earth: Shadow of War
Mini Motorways
Minoria
Mitsurugi Kamui Hikae
MO:Astray
Monster Energy Supercross - The Official Videogame 3
Monster Prom
Monster Prom 2: Monster Camp
Monster Sanctuary
Morbid: The Seven Acolytes
Mordheim: City of the Damned
Mortal Kombat Komplete Edition
Mortal Shell
MOTHERGUNSHIP
Mud and Blood
MudRunner
Murdered: Soul Suspect
Muv-Luv (マブラヴ)
Muv-Luv Alternative (マブラヴ オルタネイティヴ)
My Friend Pedro
MY HERO ONE'S JUSTICE 2
My Singing Monsters Playground
Mystery of Fortune 2 Refine
NARUTO: Ultimate Ninja STORM
NBA 2K19
NBA 2K21
NBA 2K22
Necromunda: Hired Gun
NEKOPARA Extra
NEKOPARA Vol. 0
NEKOPARA Vol. 4
Neon Beats
Nexomon
Next Space Rebels
Ni no Kuni II: Revenant Kingdom
Nickelodeon All-Star Brawl
Nickelodeon Kart Racers 2: Grand Prix
Nidhogg
Nigate Tale
Night Book
Nightmare Reaper
NINJA GAIDEN: Master Collection
Nioh 2 – The Complete Edition
No Longer Home
No Man's Sky
Nobody Saves the World
Noita
Nowhere Prophet
Nuclear Throne
Nurse Love Syndrome
Octodad: Dadliest Catch
OCTOPATH TRAVELER
Oddworld: Abe's Oddysee
OlliOlli World
One Finger Death Punch
Oozi: Earth Adventure
OPUS: Echo of Starsong
Orcs Must Die! 3
Ori and the Blind Forest
OUTBUDDIES DX
Outward
Overcooked
Overcooked! 2
Overgrowth
Pacify
PAC-MAN Championship Edition DX+
Paint the Town Red
Pajama Sam: No Need to Hide When It's Dark Outside
Paper Dolls: Original (纸人)
Paradise Killer
Pathologic 2
Pawnbarian
PAYDAY 2
PictoQuest
Pid
Pit People
Pixel Puzzles: Japan
PixelJunk Monsters Ultimate
PixelJunk Nom Nom Galaxy
Pogostuck: Rage With Your Friends
Poker Club
PooSky
Portal
Portal 2
Potion Craft: Alchemist Simulator
Power Rangers: Battle for the Grid
PowerSlave Exhumed
PowerWash Simulator
Praey for the Gods
Prey
Prince of Persia: The Sands of Time
Project CARS 3
Project Warlock
Psychonauts 2
Pumpkin Jack
Punch Planet - Early Access
Pupperazzi
Purino Party
PUSSY
Puyo Puyo Tetris 2
Rabi-Ribi
RAD
Realm Grinder
Red Faction Guerrilla Steam Edition
Red Wings: Aces of the Sky
Redout: Enhanced Edition
Refunct
Relicta
Remnant: From the Ashes
Renai Karichaimashita: Koikari - Love For Hire
Return of the Obra Dinn
Reverie Knights Tactics
RIDE 4
Ring of Pain
Rise of the Argonauts
Rise of the Third Power
Risk of Rain 2
River City Girls
Rochard
Rocket League
Rogue Legacy 2
Roguebook
Röki
Roundguard
Runner3
RUNNING WITH RIFLES
Rush Bros.
Ryse: Son of Rome
Sable
Sacred 3
SaGa Frontier Remastered
Sakuna: Of Rice and Ruin
Sakura Angels
Sakura Clicker
Sakura Nova
Sam & Max Save the World
Sam & Max: Beyond Time and Space
Samurai Jack: Battle Through Time
SAMURAI SHODOWN
Sanator: Scarlet Scarf
SAS: Zombie Assault 4
Sayonara Wild Hearts
SCARLET NEXUS
Scars of Summer
ScourgeBringer
Secrets of Grindea
Seed of the Dead: Sweet Home
Seeds of Chaos
Sekiro: Shadows Die Twice - GOTY Edition
Sentimental K
Serious Sam Fusion 2017 (beta)
SEX with HITLER
Shadow Man Remastered
Shadow Tactics: Blades of the Shogun
Shadow Warrior
Shadow Warrior 2
Shady Part of Me
Shantae and the Seven Sirens
SHENZHEN I/O
Shift Happens
Shining Resonance Refrain
Shop Titans
Shovel Knight Pocket Dungeon
Sine Mora EX
Skater XL - The Ultimate Skateboarding Game
Skeletal Avenger
SLUDGE LIFE
Sniper Ghost Warrior Contracts
Sniper Ghost Warrior Contracts 2
Sonic & All-Stars Racing Transformed Collection
Sonic Generations Collection
Sonic Mania
South Park: The Stick of Truth
Spelunky
Spelunky 2
Spirit Island
Spirit of the North
Spiritfarer: Farewell Edition
Splitgate
Stardew Valley
Startup Panic
SteamWorld Heist
SteamWorld Quest: Hand of Gilgamech
Stick Fight: The Game
Strange Horticulture
Stranger Things 3: The Game
Streets of Rage 4
Streets of Rogue
Struggling
Styx: Master of Shadows
Subway Midnight
Suit for Hire
Sunday Rivals
Supaplex
SUPER DRAGON BALL HEROES WORLD MISSION
Super Meat Boy
Super Meat Boy Forever
Super Mega Baseball 3
Super Mega Baseball: Extra Innings
Super Mombo Quest
Super Monkey Ball Banana Mania
Super Mutant Alien Assault
Super Robot Wars 30
SUPERHOT
SUPERHOT: MIND CONTROL DELETE
Supraland Six Inches Under
Tails of Iron
Tales of Arise
Tap Wizard 2
TD Worlds
TechnoMagic
Terraria
Tesla Force
Tested on Humans: Escape Room
Tetris Effect: Connected
The Ascent
The Banner Saga
The Banner Saga 2
The Beast Inside
The Binding of Isaac: Rebirth
The Darkside Detective
The Darkside Detective: A Fumble in the Dark
The Dungeon Beneath
The Elder Scrolls: Legends
The Evil Within
The Falconeer
THE GAME OF LIFE 2
The Jackbox Party Pack
The Jackbox Party Pack 2
The Jackbox Party Pack 5
The Jackbox Party Pack 6
The Jackbox Party Pack 7
The Jackbox Party Pack 8
THE KING OF FIGHTERS 2002 UNLIMITED MATCH
THE KING OF FIGHTERS '98 ULTIMATE MATCH FINAL EDITION
THE KING OF FIGHTERS XIV STEAM EDITION
The Last Remnant
The LEGO Movie - Videogame
The LEGO NINJAGO Movie Video Game
The Life and Suffering of Sir Brante
The Long Dark
The Magician's Research
The Messenger
The Room
The Sexy Brutale
The Shore
The Spiral Scouts
The Walking Dead
The Walking Dead: The Final Season
The Witcher 3: Wild Hunt
The Wonderful 101: Remastered
Them's Fightin' Herds
There Is No Game: Wrong Dimension
Think of the Children
This Is the Police 2
Time Break Chronicles
Tiny Lands
Tiny Snow
TOEM
TOHU
Tom Clancy's Splinter Cell Chaos Theory
Tools Up!
Totally Accurate Battle Simulator
Totally Reliable Delivery Service
Touhou Genso Wanderer -Lotus Labyrinth R-
Touhou Mystia's Izakaya
Tower Ball - Incremental Tower Defense
Toybox Turbos
Transistor
Travellers Rest
Treasure of Nadia
Trials Fusion
Trials of Fire
Tribal Wars
Tricky Towers
Trine 4: The Nightmare Prince
TSIOQUE
Tunche
Turok 2: Seeds of Evil
Twelve Minutes
Twin Mirror
TY the Tasmanian Tiger
ULTRAKILL
UnderMine
UnMetal
Unpacking
UNSIGHTED
Unspottable
Until We Die
Untitled Goose Game
Urtuk: The Desolation
Utawarerumono: Mask of Truth
Utawarerumono: Prelude to the Fallen
Valdis Story: Abyssal City
Valheim
Valkyria Chronicles
Vampire Survivors
Vampires Dawn 3 - The Crimson Realm
Vampyr
Vane
Vanquish
Victor Vran ARPG
Vision of Aurora Borealis
Void Tyrant
Voidigo
WanderLust
Watcher Chronicles
Waves
Webbed
Werewolf: The Apocalypse - Earthblood
West of Dead
West of Loathing
Western Press
What Remains of Edith Finch
WHAT THE GOLF?
Windjammers 2
Wizard of Legend
Wordle
WORLD OF HORROR
Worms Armageddon
Wrestledunk Sports
Wrestling Empire
WWE 2K19
Wytchwood
Yakuza 0
Yakuza 3 Remastered
Yakuza Kiwami
Yakuza Kiwami 2
Yakuza: Like a Dragon
Yes, Your Grace
Yoku's Island Express
Yonder: The Cloud Catcher Chronicles
Yooka-Laylee
Yooka-Laylee and the Impossible Lair
Yu-Gi-Oh! Legacy of the Duelist
Yuki Onna (雪女)
Zero Escape: Zero Time Dilemma
Zombie Army Trilogy
超级捕鱼