PSA: SteamWorld Dig is free on Origin (for now)
Dig, you rat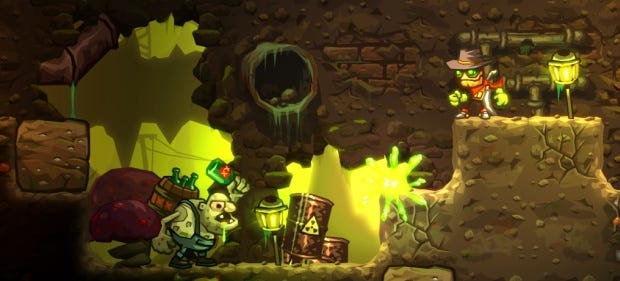 This is Brendan coming to you live from the Gamer Network offices. The whole RPS team is meeting up in real life today and talking about you, the reader, behind your back. And although I'm here with them, I'd never do that. I've always been respectful of you, and I'd never call you "the fickle mass of human excrement", if that's what you've heard. Anyway, I'm just sneaking out to tell you: SteamWorld Dig: A Fistful of Dirt [official site] the colourful robot shovelling platformer that John really enjoyed, is free on Origin today. You should probably sort that out.
It's a promotional freebase, of course. Something to get your thumbs ready for the upcoming sequel SteamWorld Dig 2, which is due out later this month and is bigger and more hand-made, we've been told, but still retains that easygoing Spelunky vibe. Anyway, to get the original for free you need Origin [gags] but that isn't so bad a price to pay [gags again] when it's normally seven quid. Excuse me. It's for "a limited time only", so how long it's up there, who knows. Get going.
Oh no. The others are coming, I have to go. Remember, I'm on your side. Don't believe anything they say when we come back on Friday. I'm the only one you can trust.