Steamy (release) Windows (for Clear Sky)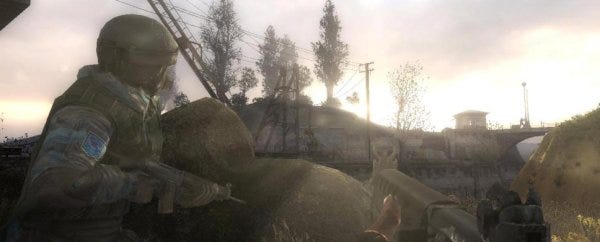 News so hot I didn't even have time to work out a proper headline, news reaches us that STALKER: Clear Sky, GSC's 1.5-equel to Jim's favourite game of last year, is going to be digitally distributed exclusively through Valve's Steam. This is interesting for a couple of reasons. In terms of business analysis, it's another game that's gone the Steam route... and it's one which hasn't even discussed how it'll be distributed in the shops yet, since they've parted company with THQ. Secondly, there's five new Clear Sky shots over on their site.
Press release beneath the cut, with Valve's Gabe Newell calling GSC "Forward-thinking" and GSC' Sergiy Grygorovych describing Steam as "the leading global digital distribution platform for games". I like to imagine people quoted in press releases winking chummily to each other when they say things like that. You should try it too.

S.T.A.L.K.E.R. CLEAR SKY to be RELEASED DIGITALLY AS STEAM EXCLUSIVE
Prequel to Hit Survival FPS will Launch Simultaneously on Steam and in Retail Outlets Worldwide
January 24, 2007 - GCS Game World and Valve announce that S.T.A.L.K.E.R.: Clear Sky will be available for digital download worldwide exclusively on Steam® (www.steamgames.com), a leading online platform for the distribution and management of PC games. The official prequel to the Survival FPS game S.T.A.L.K.E.R.: Shadow of Chernobyl is currently slated for simultaneous release on Steam and at retail outlets later this year.
"Steam has introduced S.T.A.L.K.E.R. to many thousands of new fans all over the world," said GSC Game World's CEO Sergiy Grygorovych. "We chose to deliver the digital version of the game exclusively on Steam because of its proven success not only as the leading global digital distribution platform for games, but because it allows us to directly reach its integrated and active community of gamers."
"It's great to see a forward-thinking game maker like GSC Game World launching simultaneously in digital and traditional retail channels," said Gabe Newell, co-founder and president of Valve. "By launching S.T.A.L.K.E.R.:Clear Sky on Steam on the same day that it's available in stores worldwide, GSC Game World ensures that gamers can get their hands on this highly-anticipated game in the way that's most convenient for them."
S.T.A.L.K.E.R.: Clear Sky brings the players one year prior to the events of the original S.T.A.L.K.E.R. game in 2011. A group of stalkers has, for the first time, reached the very heart of the Zone-Chernobyl Nuclear Power Plant-and brings about a cataclysm on the brink of a catastrophe. Through a rich narrative and gripping combat action, players uncover new challenges and insights in the Exclusion Zone. A new version of the game engine, X-Ray 1.5, powers superior graphical details and realistic and non-scripted combat AI.