Stellaris: Apocalypse will let you kill planets
Raze the sun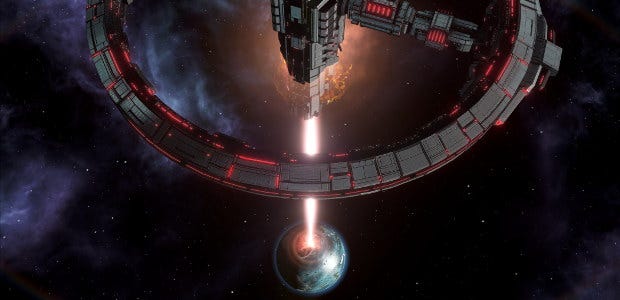 Too many worlds. That's the problem with space. You develop interstellar flight and hope to find a big emptiness that you can coast around in until all of the stars fade to black, but there's all this stuff scattered about. Planets and asteroid belts and big alien jellysquids.
Stellaris's upcoming expansion, Apocalypse, will let you clear out some of the clutter. It brings planet-destroying weapons into the game, along with new Titan capital ships, massive orbital installations and marauding space nomads, who can be recruited to your cause, but can also trigger a new late-game crisis. There's some non-violent stuff as well for the gentler souls among you.
Apocalypse is coming soon - "early 2018" - and as you might expect it is mostly about blowing things up. You've got bigger ships, planet-killing weapons, defensive installations that blow up the things that are trying to blow you up, and those marauders flying around and blowing everyone else up.
Here's the feature list:
That's No Moon, neither is That One, That One Might be a Moon, Wait, No: Keep the local systems in line with fear of the new "Colossus" planet-killer weapon – a technological terror that eliminates entire worlds from the universe.

All Your Base Are Belong to You: New enormous "Titan" capital ships can lead your fleets to conquest, offering tremendous bonuses to the vessels under their command. Meanwhile, fortify key systems with massive orbital installations and secure your homeworld as an impenetrable bastion among the stars.

Pirates of the Constellation: Watch out for Marauders – space nomads who raid settled empires and carve out their lives on the fringe of civilization. Hire them as mercenaries in your own conflicts, but take care that they don't unify and trigger a new late-game crisis!

Some Non-Violent Features: New Ascension Perks and Civics are added in the expansion, along with new Unity Ambitions that provide new ways to spend Unity and customize your development.
As is the norm with Paradox expansions, there will be a free upgrade released simultaneously, in this case bringing Stellaris to version 2.0. You can read all about the changes that'll bring in the Apocalypse dev diaries. Everything in parts 1-8 is part of the free patch.
There's also more detail on the specific forms of planet-killing you can enjoy in the expansion itself:
World Cracker: Shatters a planet, leaving behind a broken debris field that can be mined for resources. Available to non-Pacifists.
Global Pacifier: Encases the planet in an impenetrable shield, permanently cutting it off from the rest of the galaxy. A research station can be built to study the planet afterwards.
Neutron Sweep: Destroys most higher forms of life on the planet but leaves the infrastructure intact for colonization. Available to non-Spiritualist, non-Pacifist empires.
God Ray: Converts all organic Pops on the planet to spiritualist and destroys all machine/synthetic pops, as well as massively increasing spiritualist ethics attraction on the planet for a time. Available to Spiritualist empires.
Nanobot Dispersal: Assimilates all Pops on the planet, causing it to defect to your empire with its newly cyborgized population. Only available to Driven Assimilators (and thus requires Synthetic Dawn as well).
I haven't played Stellaris for a while and an expansion is as good an excuse as any to spend another few weeks building space empires. Big softy that I am, I can't imagine I'll be killing any planets. But maybe someone will kill one of mine, just so I feel like I got my money's worth.