Still Alive: Dead Cyborg Episode 2 Out Now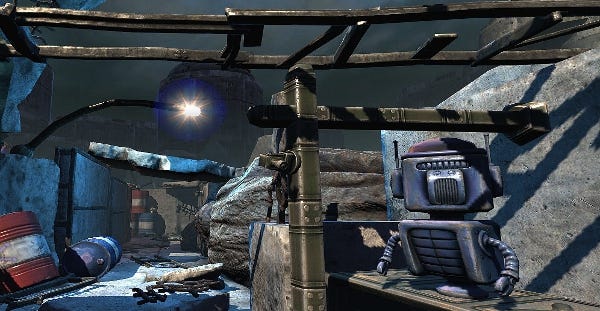 Regrettably, I hadn't heard of Dead Cyborg until, well, just a few minutes ago, but already, I have ascertained that it's much more than appearances let on. For instance, I can say with some degree of certainty that the main character doesn't simply lie lifeless in a puddle of his own oily farewells, with cyvultures pecking messy tunnels into his cyeyes. That would make for a pretty boring videogame, and Dead Cyborg doesn't appear to be snooze-worthy in the slightest. Instead, it's a pay-what-you-want episodic old-school adventure, done up with impressively futuristic flair - every element of which is being crafted by one guy, no less. Episode one came out a couple years ago, and now episode two's following dutifully behind it. I suppose you could even say it's making something of a trail. Er. Trailer. Hm. If only I could somehow make that chain of thoughts relevant to the rest of this post.
For the uninitiated (*raises hand*), here's what makes Dead Cyborg tick. Or untick. I'm not really sure how it works anymore.
"Dead Cyborg is a first person sci-fi adventure game for Windows, Linux, and Mac. The story is about the meaning of life... and death... in a rusty post-apocalyptic metal and concrete world. If you are keen on exploring the levels of FPS games, you like old text adventures, or the sci-fi classics (like Lem, Dick, Bradbury, etc) - you will like this game."
(*Raises other hand*) Me, me! I like all of those things. (*Grows a third hand*) Oh, but what happens next? Will there ever be a third episode? Apparently, but that's heavily dependent on the results of one-man show Barath Endre's pay-what-you-want drive. So far, it's ten percent funded, but since episode two now exists after episode one used a similar model, there's reason to be hopeful. Steam Greenlight stands a decent chance of helping as well.
I do believe I'm gonna have a go at episode one now, which is a fairly exciting prospect. Well, right after I get this third hand remo-- (*grows fourth hand*) god damn it.