Strategy sequel Age Of Wonders 4 hops out of a magic portal onto PC in May
Triumph Studios return to fantasy for the next in the series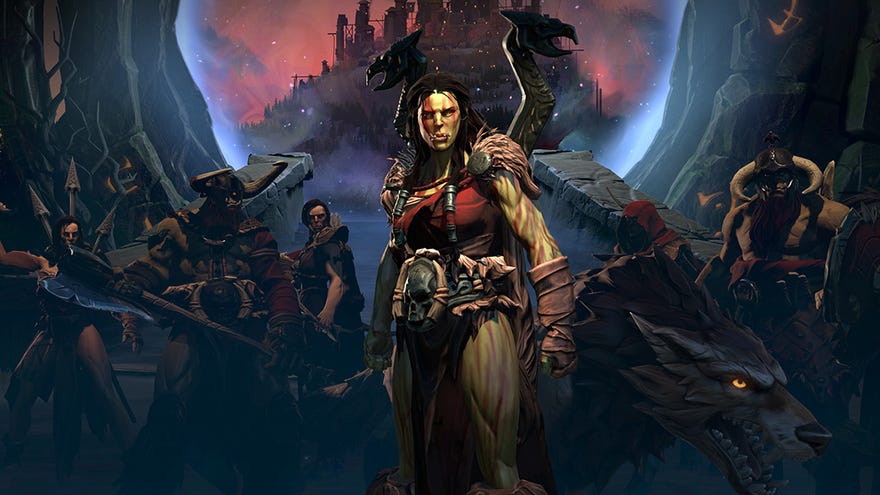 Magic's making a comeback when fantasy strategy sequel Age Of Wonders 4 arrives on Steam on May 2nd, devs Triumph Studios have revealed. The 4X game was announced during a livestream today hosted by publishers Paradox Interactive. It'll be the first Age Of Wonders in nine years that hasn't veered into sci-fi territory, and introduces a new custom faction system. You can watch a short teaser video for Age Of Wonders 4 below.
If you're not keen on almighty wizard kings who rule mortals as gods then Age Of Wonders is probably right up your magical alley, because you'll get to biff them right back through their shimmery portals. Age Of Wonders 4 gives you the chance to fight against these sorcerous invaders using destructive tomes of magic, and armies that you can manipulate into new forms. There'll be roaming monsters to engage, but your forces can also lay siege to their enemies in large-scale, turn-based tactical combat.
One novel thing that's fresh to the series with Age Of Wonders 4 is the opportunity to create custom factions. That could mean generating some moody moon elves, or even a batch of cannibalistic halflings. Nice. There's also a new event system that can drop characters you've made into later playthroughs as rivals or allies. Triumph say that you'll be able to create realms to play in, combining locations and features to make loads of combinations. Age Of Wonders 4 is intended to be the most mod-friendly take on the series yet, too.
The last numbered entry in the series was Age Of Wonders 3 in 2014. Triumph released a sci-fi spin on the formula in 2019 though, which Nate (RPS in peace) thought was a solid, well-designed strategy in his Age Of Wonders: Planetfall review. "A lovely bone, full of marrow, specially formulated for growing ogres," he said. "Don't make the mistake I nearly made and disregard it: if you enjoy the tactical and strategic game styles it draws from, you'll find a game that doesn't go out of its way to innovate on either front, but one that performs a bloody lovely duet."
Age Of Wonders 4 teleports onto Steam on May 2nd. It's also coming to PS5 and Xbox Series consoles.