Strike Vector Lands On Steam, All DLC To Be Free (!)
Flying high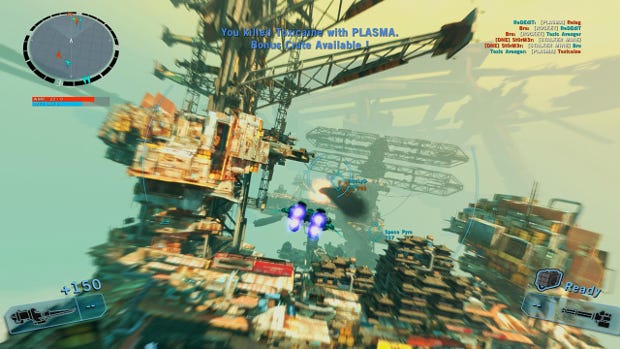 I was going to poke fun at the name Strike Vector to take some pressure off the colossal responsibility that is introducing a videogame news post, but then I decided to make sure I knew all meanings of the word "vector" and nope, I absolutely do not. A strike vector might be an actual thing, as my education in the field of vectorology is woefully lacking. I do, however, know one thing for sure: Strike Vector The Videogame is unarguably stunning, especially given that it's a relatively small indie effort. Also, its unique brand of transforming, sky-city-deforming shootyblams is now on Steam. Hurrah!
If you needed proof that Strike Vector has ships and explosions, you now have it.
I'm hoping to have a go at the first/third-person shooter soon myself, as developer Ragequit cites influences ranging from Crimson Skies to Quake 3. Consider me on board. That might leave the mode selection feeling a bit unspectacular, however. Deathmatch, team domination, team deathmatch, and capture the flag aren't exactly breaking new ground. Er, sky. But hey, the game's Steam page also touts "many others," so maybe there's a gem or two that Ragequit is keeping under wraps. As a surprise! For your birthday! Or because they got bored of listing all their modes.
Oh, and then there's this, which is especially promising:
"All new features will be FREE. Strike Vector will offer free DLC after the game release. We want to make sure that every person playing Strike Vector have access to the same content regardless of when they will get the game."
Kudos to Ragequit letting us keep all our nickels and dimes. Now if you'll excuse me, I have to go find one of those children's firetruck ride things you sometimes find outside grocery stores. If I budget this correctly, I can probably thrill to one for, like, a whole hour.