Stylish anime dogfighter Jet Lancer is out now
Breaking the style barrier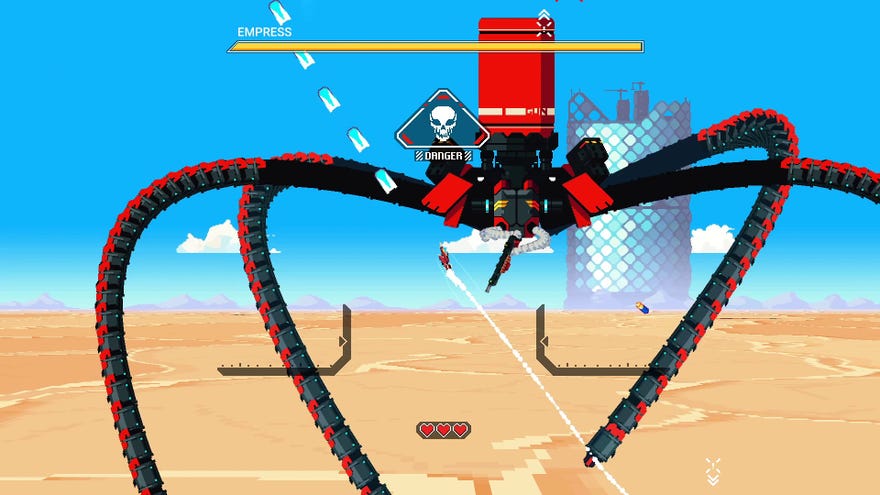 Jet Lancer's coming in later than planned, but who can stay mad when your flight looks like this? Sitting at the crossroads between Luftrausers, Daemon X Machina and Top Gun, Vladimir Fedyushkin and Nicolai Danielsen's slick dogfighting anime about turning mountain-sized mecha into scrapheaps with fighter jets hit the skies earlier this week on Steam and Itch.io.
Originally set for a release last summer, Jet Lancer is Luftrausers delivered with a look that's a lot more vibrant and a little less, well, fash.
That comparison to Luftrausers is a welcome one, mind. Vlambeer's sepia-tinted dogfights had a wonderful heft and momentum to them, a flourish that Jet Lancer appears to capture wonderfully. Like Luftrausers, you've got a "jet" button and a "shoot" button from which to navigate a bullet-filled sky. But Jet Lancer expands your options with super-weapons, homing missiles, afterburners and barrel rolls for temporary invulnerability.
If Luftrausers was pure minimalism, Jet Lancer is delightfully excessive - an explosion of colours and jet trails, screen-filling bosses, and the kind of diegetic UI alarms that set my heart aflutter.
Rather than framing itself as an arcade score-attack, Jet Lancer has a full campaign of aerial antics to shoot through. Jobs are picked from a 3D overworld, driving your hover-carrier from mission to mission across a vibrant archipelago rendered in sharp Wind Waker stylings. It's a post-apocalyptic mecha anime in planes, following mercenary pilot and flight school drop-out Ash Leguinn as she weaves her plane through a web of intrigue, pirates, talking cats and rival pilots.
As a welcome aside, Jet Lancer also comes with some lovely accessibility options - with anti-fatigue toggles, adjustable dodge windows, and letting you disable screenshake and freeze-frame effects.
Jet Lancer is out now on Steam and Itch.io for £11.39/€12.49/$14.99