Boardvideogame Sumer is hopping into Early Access
Do a goddess a favor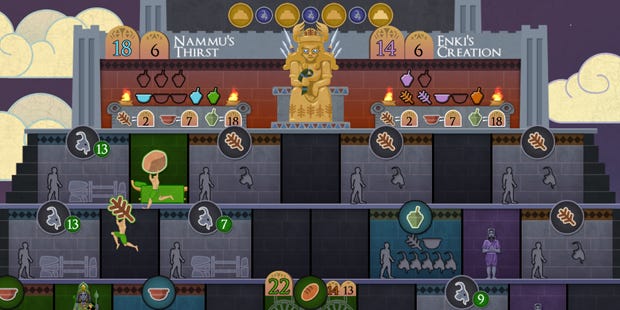 Mesopotamian worker-placement platformer Sumer [official site] is going into Early Access from Wednesday, 15 February. I wrote about it on this site after spotting it at GDC last year because it takes a strand of boardgame which usually arrives with a massive rulebook and a need to spend twenty minutes at the end totting up victory points and converts all that into a platformer where you can leap all over a ziggurat completing tasks to earn favour with a goddess and then getting into your little bed to mark the end of a turn. There is also an economy involving goats.
Here's the official explanation of the game's structure:
The game is divided into two phases: the Harvest phase and the Auction phase. During the Harvest phase assign your workers to prepare offerings for the gods. Jump up and down the face of a ziggurat to gather resources, then bring them to the altars and sacrifice them for the gods' Favor. Collect goats, then offer them in the auction to bid on valuable blessings like extra workers, new buildings, or influence-spreading statues. Outbid, outproduce, and outsmart your way to victory!
The Early Access version will launch as a local multiplayer game (it's actually for 1-4 people so you can also play solo if you fancy pitting yourself against the AI). The plan is to go on to provide online multiplayer but it's still in the early stages right now.
I was speaking to developer Misha Favorov about what stage the game is currently at and he tells me "The core gameplay of Sumer is essentially complete - we're using Early Access as a way to get the game into the hands of people at a reduced price while we finish up adding online multiplayer. We'll do our full launch as soon as online play is in - ideally before the end of the year."
That reduced Early Access price is $14.99 with an expected increase to $19.99 on full release when the online play side is added.