Sail the Sunless Sea once more in fan-made expansion Tales Of The Grave-Garden
And yes, there's new romance options.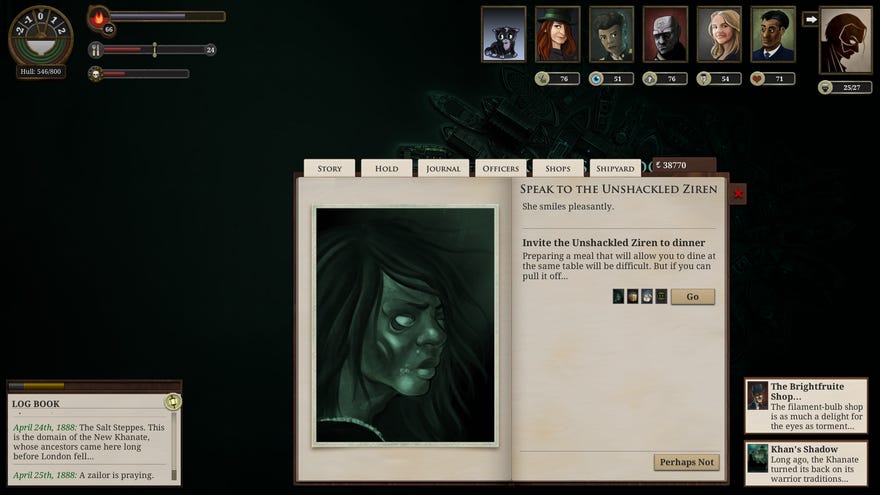 Here's something to make your weekend just that little bit stranger, so long as you own Failbetter's deliciously compelling Sunless Sea. Tales Of The Grave-Garden is a fan-made expansion, adding a little more of everything to the game. More ships to sail, more weapons with which to make other ships stop sailing, and a goodly chunk of new stories to follow. They're adeptly written and all fit nicely within the overarching Fallen London setting. The mod is the work of one 'Enneagon', and was released earlier this week.
For those of you who love cold, hard numbers, Tales Of The Grave-Garden contains ten new ships, four new shops, three new Officers (with their own story arcs), two more Mascots, a bundle of gubbins to bolt onto your ship and many more stories to share out on the Unterzee. On top of the more quantifiable content, part of what sold me on Tales Of The Grave-Garden is the additional titles you can be addressed by. I don't think anything will ever top 'my dude', which steadily becomes funnier the more grim the situation you're in becomes.
Modding Sunless Sea must require a very different skill-set to most. I've seen many amazingly detailed Doom and Quake maps with barely-coherent documentation and messy, typo-laden in-game text. Modding here must feel like fitting new passages into a novel, with the aim of making a new reader sure that they were reading the one and only published edition. That said, Tales Of The Grave-Garden doesn't seem to lack in the technical department either, with the new ships providing some alternate playstyles, and some special collectables leading you towards a new ending.
Tales From The Grave-Garden is out on the Sunless Sea Nexus site. You will, of course, need Sunless Sea from Steam, Humble or GOG to play. While easily-followed installation instructions can be found there, don't read too much of the Readme file unless you get stuck - it contains a walkthrough for most of the new content.
Credit to PC Gamer for spotting this one - I didn't even know Sunless Sea had mods before this week.