Super Arcade Football scores a spot in RPS Cave Of Wonders at Rezzed
Goooooooal!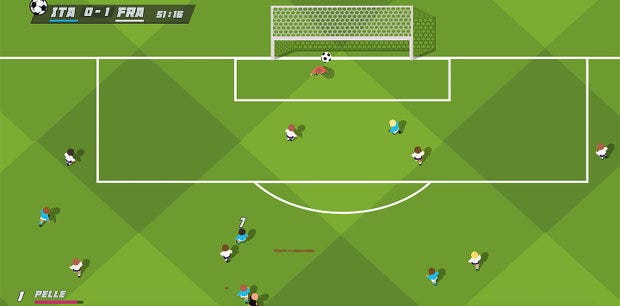 This week we'll be taking a closer look at what's going to be in the RPS Cave of Wonders at Rezzed! This time: Super Arcade Football!
Super Arcade Football [official site] is a top-down arcade foot-to-ball 'em up for 1-4 people. The hustle and bustle of Rezzed seemed like a great opportunity for some local co-op, particularly if you don't get to do much of that at home, so Super Arcade Football seemed like a great fit (although there is a danger that Adam and Graham will hog any football game given half a chance so do boot them off if you fancy a go!)
The game is currently wending its way through the channels of Early Access over on Steam so this is a good chance to dip your toes into the footballing waters to see what you think as well as potentially making new friends (depending on how your multiplayer experience pans out...).
EGX Rezzed 2017 runs from 30 March – 1 April at the Tobacco Docks in London (nearest stations are Shadwell and Wapping). You can pick up Rezzed tickets here and don't forget there's also the RPS mixer in association with The Signal From Tolva which should be really a lovely and friendly gathering :)