Valve Time Force: Super Time Force Now On PC
Zoey, Pyro, and Saxton Hale join in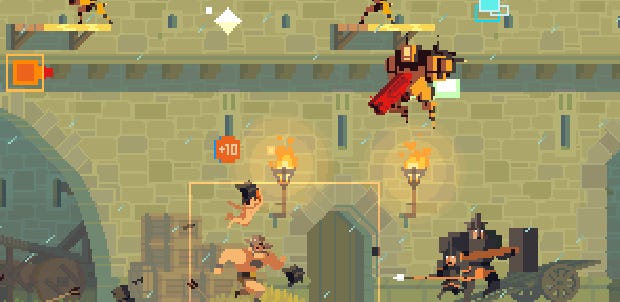 Super Time Force launched on Monday, while we were off enjoying the holiday (I sat in a park in St. Albans in torrential rain with a bottle of wine, because reasons), so have a reminder that it's out.
The time-twisting shooty platformer's port from Xbox is fancied-up, as one would hope. Capy Games bunged in a new mode and more levels, renamed it to make a most entertaining acronym, and also teamed up with some other folks who play loose with time, Valve. See, Super Time Force Ultra (what wags!) on Steam also has Zoey from Left 4 Dead and TF2's Pyro and Saxton Hale.
Super Time Force, if you've missed it so far, is one of those time-rewinding single-player co-op sort of things, with a fair spread of characters combining special attacks and abilities to save each other and complete levels faster. On Steam--and unfortunately only on Steam--that cast is three stronger. Zoey runs around with dual pistols, lobbing explosive propane tanks, while the Pyro has their flamethrower and flare gun, and Saxton straight up beats the heck out of folks with his fists. You'll need to unlock them before you can play them, mind. Here's Zoey:
Launch discounts mean that, for the next few days, Super Time Force Ultra is £9.89 on Steam, $13.49 (about £8.15) DRM-free on GOG, or £8.49 on the Humble store, which gives both a DRM-free version and a Steam key. Humble's probably the one to go for, then.
Here, have a gander at Capy's Kris Piotrowski playing with as Zoey, Pyro, and Saxton. You might want to mute as the way it's recorded means the sound is a dreadful dirge of squawking and static: