Beauty In Motion: E3 Just Got SUPERHOT
SUPERHOTTER AND HOTTER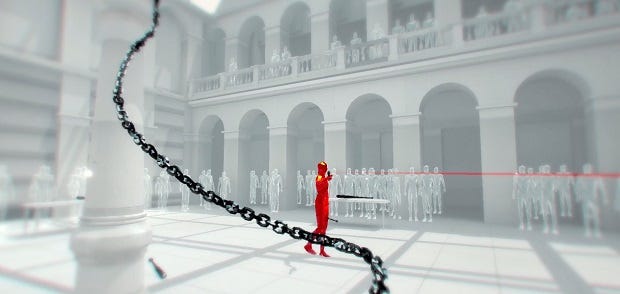 If you'd have told me that E3 would play host to a more attractive video than the CUPHEAD trailer we covered less than an hour ago, I would have laughed you out of the building. Doesn't matter which building you were in - be it house, pub, shop or tower - I'd have shown up and chased you out of the backdoor, chortling like a ticklish hyena. If you happened to be outside at the time, I'd have laughed you off the planet.
That's all over now. SUPERHOT [official site], the exquisite first-person shooter in which time only moves when you move, looks astonishingly beautiful in a new video, which you can see below.
If I had a projector, I would point it at the moon and broadcast SUPERHOT on a loop forever.