Hippocratic Oaf: Surgeon Simulator Tackles Trump
Heart transplants, not hair transplants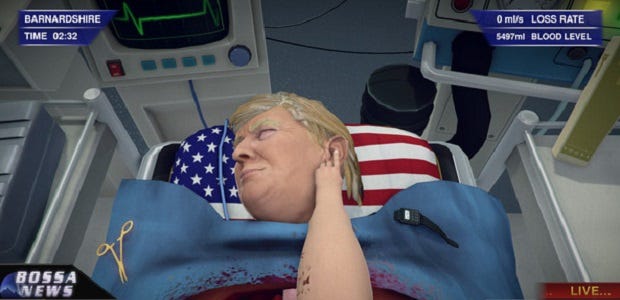 When I first saw the trailer for the new Surgeon Simulator DLC [official site] I felt a bit queasy. You can watch the trailer below before reading on and, like me, you may end up thinking that Inside Donald Trump is about deciding whether or not you'd kill the possible president if he were lying unconscious before you. Maybe I played too many of those horrid little celebrity torture simulators that used to pop up on Newgrounds back in the day. Turns out, the DLC is actually about deciding whether to give Trump a heart of stone or a heart of gold.
Presumably, you can just pull his guts out though and maybe replace them with silly string?
All the fake blood and guts in the world are unlikely to make me feel uncomfortable, and I have no love for Trump, but any game that depicts a recreation of a real person suffering for the amusement of the player does make me a little squeamish, I must admit. But then, this all seems to be in good humour, with the heart transplant being the central gag rather than a swift injection of something foul.
Bossa have this to say:
Love him or hate him, you cannot ignore him, and now, you get to operate on him. Inspired by this year's most talked about political event, we invite you to cast your vote in our FREE update for Surgeon Simulator: Anniversary Edition on Steam. Make your choice, Donald Trump: stone-hearted villain, or gold-hearted hero?
If you don't have the Anniversary Edition of the game, it's available for £8.99 or upgrade from Surgeon Simulator 2013 for £1.99.