Swords With Friends: Baldur's Gate's Cross-Plat Co-op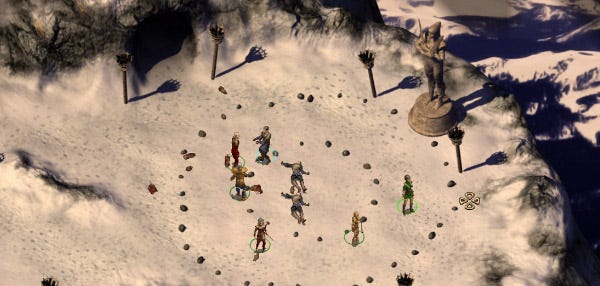 It's not that difficult to "enhance" something. Recently, I "enhanced" my cereal experience by pouring milk into it. In the world of PC gaming, however, "enhanced" is a holy and sacred word. The Witcher 1 and 2's Enhanced Editions, for instance, were the equivalent of sending my cereal bowl sailing into a nearby forest, flying in an Iron Chef, and telling him to make whatever his heart desired - so long as it included over 100 courses. Baldur's Gate: Enhanced Edition, meanwhile, appears to be taking a similar approach. And now, Beamdog's announced a cherry for the proverbial cereal and ice cream and filet mignon sundae: cross-platform multiplayer.
Principal Baldur's Gate franchise necromancer Trent Oster said as much in a tweet:
"[Baldur's Gate: Enhanced Edition] will have co-op multiplayer and will work across platforms. iPad can play with Android, Mac and PC. One happy gaming family."
Baldur's Gate 2, of course, had up-to-six-player co-op, so multiplayer is hardly unexplored territory for the franchise. Playing with people on other platforms, however, sounds like quite the enticing wrinkle. I mean, I know plenty of people who'd shudder in fear of the role-playing legend's isometric viewpoint and associated old-school complexities, but if they could easily access it on an iPad while a friend showed them the ropes, well, they'd be a bit more open to the idea, at least.
And, lest you think I'm some sort of altruistic soul who just wants all of humanity to be happy, understand that this is entirely driven by the chance that Beamdog could re-calibrate its patented Dog Beams to fire copies of Baldur's Gate 3 instead of dogs. And oh what a day that would be.