Watch: System Shock Reboot rebooted in Unreal
Remastering the remaster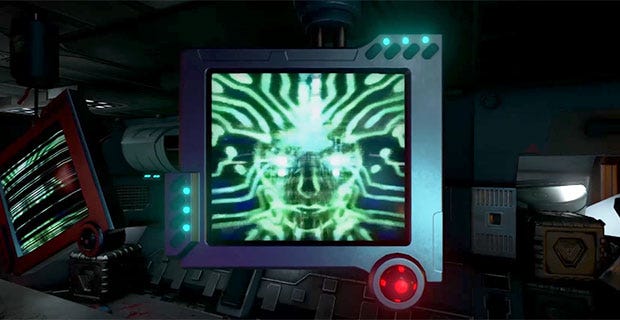 Am I being a mad old man or does this look quite different to the bluer, brighter, System Shockier demo put out to publicise Night Dive's System Shock Reboot [official site] Kickstarter last Summer?
In this matter at least, I am confident my sanity is unaffected. For as well as an apparent shift in its art direction to something more traditionally sci-fi/horror, SSR has hopped from Unity to the Unreal engine, resulting in a very different-looking game. Better in many way, yes, but perhaps less like the 1994 original. Take a look below, and hear Night Dive's reasoning for the ol'switcheroo.
Writes game director Jason Fader in a backer update, "After listening to everyone during the Kickstarter campaign, it became clear that console support was very important to a lot of you. We took a hard look at what Unity could do on consoles, and what we wanted to achieve for both visual quality and performance. While Unity is a great engine, it was clear that we needed to use an engine that fit our project goals more closely."
Blame dem grotty consoles, basically. It does like significantly more impressive and more 2017y, but I'll definitely miss the odd retro/21st century mash-up that characterised the demo. That's unlikely to purely be down to what's under the hood, mind you - this has the hallmarks of a rethought aesthetic too.
Fader seeks to assuage worries that there's trouble at mill by revealing that they actually shifted over to Unreal back in September, just a few months after the Kickstarter. "We didn't make this decision lightly, and wanted to be sure we could do the game justice with this engine shift." They only chose to reveal Reboot's reboot once they'd got "finally to a point we were happy with." Which is now. Whaddaya think?