The Witcher 3's Gwent Comes To Tabletop Simulator
Everyone loves Gwent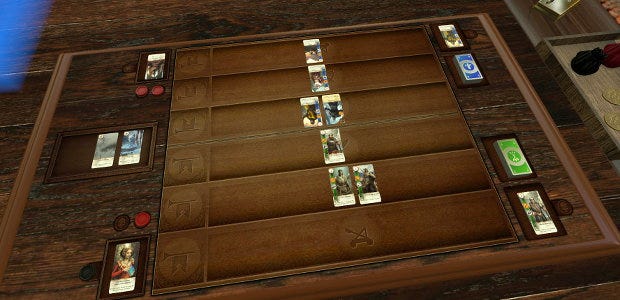 One of the best things about The Witcher 3 is its awareness that fetch quests are absolutely silly. The other fantastic thing is Gwent. I like Gwent. A lot. In case you don't know what it is, it's this in-game collectible card game that has two players take control of different armies and duke it out to see who is the better general-leader-hypothetical-head-of-army. While not the deepest mini-game I've encountered, it's certainly fun and has, to date, consumed a worrying amount of my time in the Witcher 3. And now it is available as a mod for Tabletop Simulator [official site], which is similarly awesome.
Actually, first, have a canonical description of Gwent. Doesn't that sound scrumptious?
"Invented by dwarves and perfected over centuries of tavern table play, Gwent is a game of initial simplicity and ultimate depth, something beloved by both road-weary travellers during long nights around the campfire and elegant nobles looking to liven up dragging dinner parties."
Anyway, moving on, the Tabletop Gwent author, ahem, '[MeoW] »Mr.RiZZaH«' has already put out a massive update that includes a host of interesting bits. Asides from general improvements and graphical shinying-upping, the Gwent mod for Tabletop Simulator now has another ruleset from the modder involving deckbuilding. I hope its future will include quaffing from that tankard of beer with suitable amounts of masculine posturing.