Tales From The Borderlands Episode 4 Out Today
Come see the trailer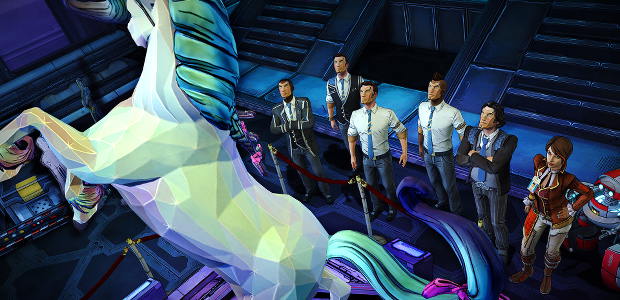 Tales from the Borderlands [official site] has a lot more heart than I'd expected, and a lot less Claptrap than I'd feared. It's a pretty nice series, I'm saying. The adventures of our merry band of treasure-hunting misfits and grifters will continue today, as Episode 4 is due in a few hours. That screenshot up top isn't too spoil-y - hey, it's a snazzy statue - but the trailer that follows is a little, so be warned if you want the antics and japes to come fresh.
Here's how Telltale describe the episode:
"In this penultimate episode of the season, captured by Vallory and her goons, Rhys and Fiona are forced to continue the search for the Vault beacon - at gunpoint. The beacon is on the Hyperion moon base - Helios - while our heroes are on Pandora... so there's the pesky cold void of death known as 'space' to overcome. Even with assistance from a familiar face, and with a worryingly helpful Handsome Jack hitching a ride in Rhys' head, getting on board the ominous 'H' is going to take every drop of guile, and quite possibly all the spunk you've got. Sacrifices will be made - can you make the tough choices needed to succeed?"
Tales from the Borderlands is on Windows and Mac.