Tales of Zestiria Is Coming To PC
Fight the Malevolence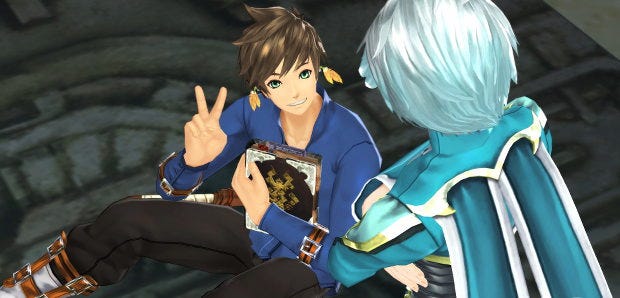 In case you weren't aware already, Malevolence is rather malevolent. So malevolent, in fact, that it's taken to spreading across the lands contained within upcoming JRPG Tales of Zestiria [official site]. Come October 20th, players will have the opportunity to stop this nefariousness. Such a miraculous feat, of course, will involve stepping into a shoes of a "pure-hearted adventure" named Sorey who, in turn, is destined to become The Shepherd.
Tongue-in-cheek snarking aside, it's always a good day when Bandai Namco decide to localize one of their deeply beloved Tales games. The fifteenth (!!) in a long line of titles, Tales of Zestiria will reportedly introduce a new take to the franchise's real-time combat system. To be more specific, this means side dashes and "new combo opportunities with the fusion techniques." Which sounds swell, really, but I'm mostly keen on the idea of making loads of imaginary friends. Apparently, Sorey will be able to cozy up to invisible things called Seraphim. One can only hope that this will involve people staring at me funny. Because that's what happens when you chat at people who aren't there.
It'll have English and Japanese voice-overs, along with English, Spanish, French, Italian, German and Russian subtitles.
I'm still holding out hopes that Bandai Namco might bring the Tales spin-offs to their Western audience, although that will probably never happen. But who knows? Maybe, sales will be absolutely phenomenal. Maybe, it could happen. Maybe. For now, however, we have Zestiria and this trailer to fawn over.