Avant-Garde Stealth Game Tangiers Hits Troubles
Beta delayed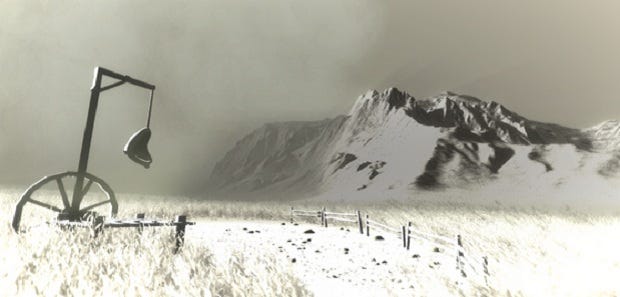 There aren't many in-development games that have me more excited than Tangiers [official site]. A surreal stealth sim that draws from the writing of Burroughs and Ballard, it doesn't look quite like anything else I've ever seen - equal parts Silent Hill and Surveillance State - and I urgently need to see more.
Sadly, development has hit some obstacles. A recent update on the Kickstarter page explains all.
A bit of backstory first. The Kickstarter, which began in July 2013, raised £42,000. The game occasionally emerged from the shadows, in the form of screenshots, videos and devblogs, and work was continuing at the expected rate.
Recently, as the intended beta release date approached, creator Alex Harvey posted about the need for a final injection of investment in the final stages of the project - "Nothing major, just enough to get us over the finish line smiling." That investment fell through, as detailed in a September Kickstarter update. A backup plan then went into action.
Yesterday, a new update explained that the backup plan has also fallen through.
"After countless hours and sleepless nights hammering out the agreement, putting together the requisite documents, projections, long term plans and keeping everything watertight on our camp, it goes askew from the other end.

"We're told that in spite of prior agreement, only 20% of what we're due will be made available to us. They had less to hand due to previous commitments not coming to light and the weight of that fell straight on us.

"Not very good at all."
The future of Tangiers isn't entirely bleak, however, and Harvey is trying to make the best of the situation, both for Tangiers' backers and for the people working on the game.
"Concerning day to day production, we've got just enough to scrape by through to release. But we've already kept our belts drawn several notches too tight in order to make the recovery leap from failed funding to replacement funding. To see release in the current circumstances would involve forcing the team to tighten further and to take an income that barely scratches minimum subsistence levels. Grossly unethical from a business perspective. And from a development & creative angle, a team struggling to make ends meet is going to struggle to finish their product with the expected standards of quality and flare."
The beta release hasn't been scrapped, however.
"As you all are well aware, Beta was due around now. Situation with it is broadly the same as it was at the time of the last update. Hanging on for completed voice over and music, then following a brief but concentrated testing effort we're good to launch."
A reliance on freelancers, as well as a commitment to avoiding severe crunch backed by limited funds, means that Harvey can't complete certain aspects of the game until the necessary cash is in place. As soon as it's secured, one way or another (and various avenues are being explored), the beta will be around three weeks from release.
Harvey admits that the situation is bad but still believes in the game and is responding to comments over on the Kickstarter page.
"While Tangiers is not quite complete, it is unique, it stands out from the crowd and what we've shown so far has been well received. It is almost a very good game indeed. Things are fragile right this minute, but we're holding something special and valuable in our hands.

"As such, I'm almost certain that we can find a route forwards to success. I'll be returning in two weeks to update on the matter, but in the meantime feel free to ask any questions in the comments."
For a reminder of why I'm hoping Tangiers can find all the support that it needs, here's the most recent video.