Team 17 to publish hundred-player WW2 shooter Hell Let Loose
Can we not do Normandy again? Thanks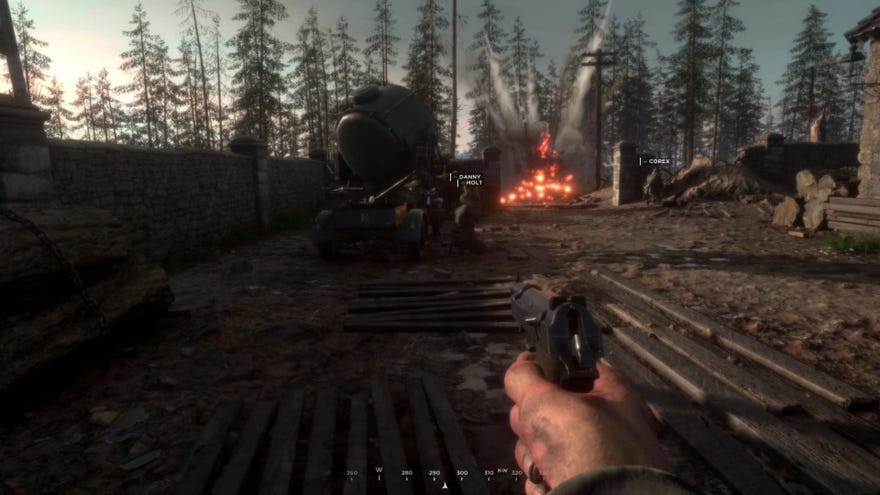 As the cycle begins anew, World War 2 shooters are in vogue once more and Hell Let Loose is ready for the front lines. Developed by new studio Black Matter, it's a gritty, semi-realistic World War 2 team shooter for teams of up to fifty players a side. There are unit classes, vehicles to drive, ride in or escort and apparently a resource-gathering strategic layer in-between matches. It's due for an early access release in 2019 after a successful 2017 Kickstarter campaign, and seems quite far along in development as you can see in the grimy, muddy combat footage below.
From the look of the footage, this looks more Red Orchestra than Battlefield 5. Bullets are extremely deadly, explosives rip bodies to shreds and armoured units feel invulnerable up until the moment an AP shell tears through them. Each of the fifty-player teams has a commander, who can issue orders via a tactical map. Whether they will will likely hinge on the kind of crowd the game attracts, combined with whether there's any inherent reward provided for following orders. As described, the maps sound large and complex too, based on real aerial photos and satellite imagery.
Being the shamelessly casual scrub that I am (give me regenerating shields and plasma guns any day), it all looks a bit daunting, but I can easily see the appeal here for the Flare Path crowd. Realistic, larger-scale World War 2 manshootery set in vast forests, across hedgerows and into mortar-battered farmsteads is something that hasn't been tackled much lately. The scope of the conflicts - fifty players a side - is interesting too. Easily possible in the battle royale era, but I'm interested if they can make it feel coherent when Battlefield feels wild and messy with only 64.
While Black Matter and their publisher Team 17 aren't ready to pin down a date yet, Hell Let Loose should be launching as early access in the new year. You can find it here on Steam.