Team Sonic Racing breaks the sound barrier in trailer
Why does Sonic need a car?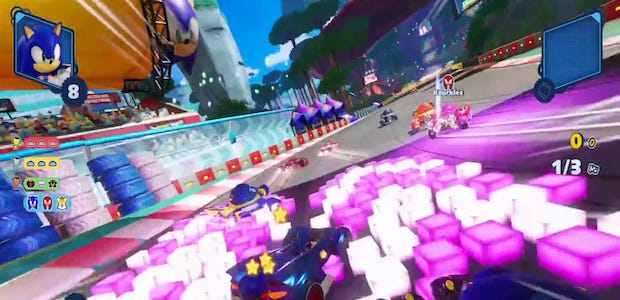 Mr. Sonic the Small Blue Animal Guy With Good Rings is back into the racing circuit. It's certainly one of the lesser beloved game franchises, and I can't help but think that's because it would be ridiculous for a character whose super-power is being super-fast to trade that power for driving cars that are equally fast to all of his competitors. It just doesn't make sense, right? I mean, Sonic and Mario facing off at the Olympics was also a game, so I guess maybe logic doesn't matter here? Team Sonic Racing brings us back to the Sonic Racingverse, and I'm sure I'm in the minority, but this is that Game Content I crave. Check out the forthcoming Team Sonic Racing trailer with me.
The official announcement for the game details the specifics of what we can look forward to in this latest animal cart racer:
Play solo or with up to 12 drivers online as Sonic, Shadow, Tails and other beloved characters in thrilling single and multiplayer game modes, including Grand Prix, Time Trial, Team Adventure. Throughout the race, players will be able to utilise various team mechanics including Item Transfer, Slingshot, Skim Boost and more to assist your teammates throughout the race to secure your spot atop the podium while having the option to customise their vehicle to suite their racing style.
IGN Live has 11 minutes of Team Sonic Racing gameplay on display here:
Back at announcement, Alice wrote-up the fact that Sonic's Fellows are the only ones included in this game. Which is weird because the All-Stars franchise allowed for such bizarre cross-overs:
But it does sound like Team Sonic Racing will be Sonic-only, as Sega say it'll have "15 playable characters from across the Sonic Universe." While they haven't confirmed the full lineup, I do see Sonic, Tails, Knuckles, and Shadow in screenshots for starters. Ah, but it'd be a shame to turn away from the weird crossover of All-Stars. Its racers include Shenmue star Ryo Hazuki riding old Sega arcade cabinets, the eponymous Football Manager in a luxury car, the Crazy Taxi driver, and warmen from Company Of Heroes 2 and Total War: Rome II in dinky warcars.
Total War: Rome II is a very funny joke but oh my god is Alice right about Crazy Taxi guy. What would Sonic even do with Craaaaazy Money? What if that guy had to pick up other racers when they hit obstacles and then get them to the finish line WHOOPS I invented a different game.
Amr just took a look back at Sonic & All-Stars Racing that is absolutely worth your time to check out.
This should hold fans over until the release of the live action Sonic The Hedgehog film featuring Paul Rudd. Yes, that is real.