Terraria Adds Snowmen, Shivs And Santa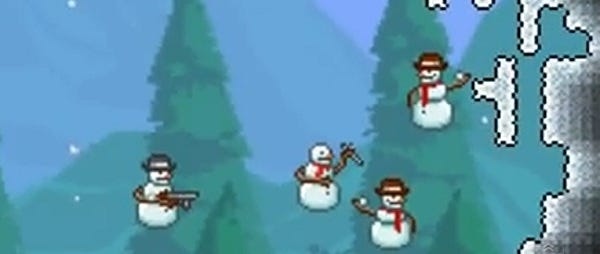 Christmas has come early to Terraria, with a patch containing a Daddy Crimble costume, snow, ice, presents, candy canes and gift-wrapped blocks. Most importantly though, gangs of snowmen will attack, armed with knives, snowbombs and Tommy guns. What this means is that you'll be able to decorate the world with lights and festivity and then die at the hands of Al Snowcone and his meltable mobsters. A cheerful video awaits you.
There's even a new NPC in the form of Jolly Saint Nick himself, although you'll need to kill a lot of snowfolk to get his attention. We're told that all worlds generated until December 25th will have snow biomes but they won't cease to exist after that - they'll just be less common. Although the update contains silliness in the spirit of the season, it's also a proper patch that deals with existing issues. The full changelog is here.